Things You'll Need
Measuring Tape

Knife

Insulation

Duct Tape

Hole Punch

Wire Tie

Clamps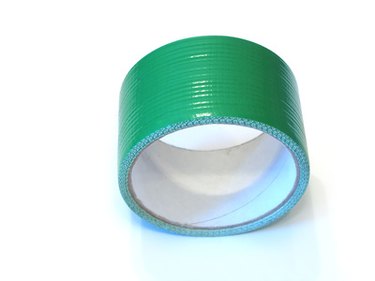 Pop-up campers are incredibly beneficial for the common outdoorsman or for a family looking to get away on a weekend vacation in the woods. Although these campers provide cover against the rain and a door that shuts to keep away animals, they are often very hard to regulate when it comes to temperature. Summer months can be filled with scorching cabin temperatures due to unprotected windows magnifying the sun. Additionally, fall and winter months can mean long, cold nights as heat quickly escapes through windows and walls. Insulating a pop-up camper is an inexpensive and essential way to keep your camping days joyful and comfortable all year long.
Step 1
Measure the interior dimensions of all the windows.
Step 2
Cut pieces of Astro Foil to size to fit in place over the windows. Astro Foil is an example of a product layered with a foil-based protective covering on both the front and the back of the insulation. The covering protects the hands from harmful insulation exposure. Astro Foil is available through the company's official online website and at any home supply or camper retailer where insulation materials are sold.
Step 3
Duct tape all edges of the Astro Foil insulation to the window frames. Insulating windows that face the sun keeps unwanted and overbearing sun rays from overheating the inside of the camper.
Step 4
Measure the interior dimensions of the cabin walls and roof.
Step 5
Cut long strips of Astro Foil to fit into place on both the walls and roof. Repeat this step to double the amount of insulation. If you need three strips of insulation to cover the roof once over, for example, cut three additional strips – a total of six strips – to use as a double-thick layer. Doubling up on wall and roof insulation covers the main body of the camper where heat enters and/or escapes.
Step 6
Punch holes into the corners of each piece of Astro Foil. Wire-tie all dual layers together for double-strength pieces of insulation.
Step 7
Clamp or duct tape the double-strength insulation into place along the roof and walls. Clamping and/or taping make the insulation easy to remove, if necessary. Insulating the roof and walls keeps the camper warm during cold weather.
Tip
Insulation with a foil covering can result in a buildup of condensation. Double layering the insulation holds in warmth, thus reducing the risk of moist outside air merging with cold inside air that causes condensation.
Keep an emergency insulation blanket in your camper for additional warmth. Wrapping yourself in an emergency blanket holds in more than 2/3 of your body heat.