Things You'll Need
Wire steam table rack

Full-size deep steam table pan

Hot water

Sterno cans

Lighter

Steam table pans of food

Aluminum foil

Skewer

Oven mitts

Tongs

Food thermometer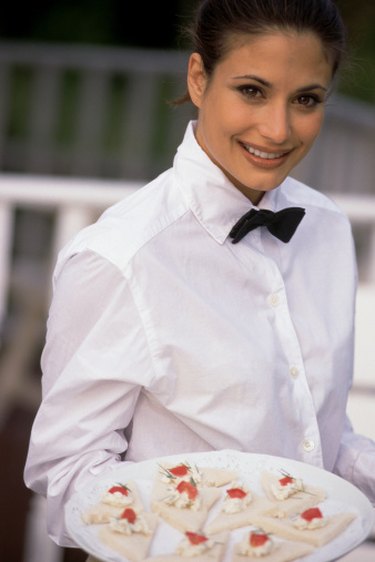 Steam tables are staples of catered events such as weddings, funerals or holiday parties. Chances are good that if you contract a caterer to provide food to your event, the catering company will do your steam table setup for you. If you're having a big get-together, however, and have cooked all the food yourself, you may find that a steam table best accommodates the amount of food you have to serve. Steam tables can be purchased from warehouse stores like Costco and Sam's Club. Set it up on a sturdy, strong table for best results.
Step 1
Place the wire steam table rack on the table serving the food. Shake it around on the table to make sure it is sturdy and doesn't wobble. If it wobbles, bend the wires of the rack until it sits securely.
Step 2
Position the full-size deep steam table pan in the wire steam table rack. Fill the pan with about an inch of hot water.
Step 3
Uncap two cans of Sterno and place them in the two Sterno holders in the bottom of the steam table rack. Use the back of your lighter to help pry the caps off if you cannot get them off easily with your fingers.
Step 4
Light the Sterno cans once they are in place. Do not light beforehand, as they get very hot very fast, and you run the risk of burning yourself.
Step 5
Place either one full-size or two half-size half-deep steam table pans of food into the full-size deep steam table pan in the wire steam table rack. These pans of food must be heated to serving temperature before they are placed in the steam table pan. Steam tables are meant to hold hot food at safe temperatures, not to heat food.
Step 6
Cover the top of the pan with aluminum foil to keep the food warm until guests arrive. Use a skewer to poke holes in the foil if the food inside is very moist, so condensation does not build up.
Step 7
Take the temperature of your food every hour to ensure it remains at a food-safe temperature. Ideal food temperature should be 165 degrees Fahrenheit, according to USDA Food Safety and Inspection Service safety standards.
Tip
Always wear oven mitts when handling hot trays of food or when moving food around in a steam table pan. Even though a steam table is not meant to heat food, it does keep hot food hot--and will make your fingers hot as well.
Keep an eye on the clock and the Sternos. Cans of Sterno are sold by different companies but all have an average lifespan of use listed on their labels. Most cans last 2 1/2 hours. Read and understand how long your Sternos will last before you set up your steam table. Have spares available if your event will last longer than a single pair of Sternos.