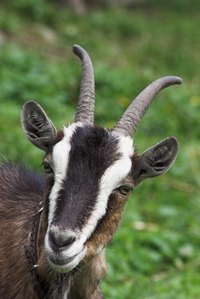 Goat's milk is not only nourishing on the skin and healthful to consume, it is also very aromatic and beautifully creamy in color. You can enjoy the beauty and aroma of goat's milk by using it to make homemade candles. In order to add the goat's milk into the wax used in candle making, it is important to follow a few guidelines to make sure that the wax is sufficiently melted first.
Things You'll Need
Beeswax
Double boiler
Goat's milk
Vanilla essential oil
Wick
Scissors
Place 2 lbs. of beeswax into the top of a double boiler, fill the bottom of the boiler with water and heat the water over high heat until the wax melts.
Pour 1/4 cup of goat's milk into the wax, and stir thoroughly with a spoon until the two substances are combined.
Cut a wick to measure 18 inches long.
Dip each end of the wick 8 inches into the melted wax mixture.
Pull out the wick ends, and let the wax cool for a minute or two.
Continue dipping and cooling the wick ends until the resulting candles are at least 1/2-inch thick. Let the candles cool completely.
Cut the candles apart, leaving about 1/2-inch of wick on each.