Things You'll Need
Dust cloth

Fine-grit sandpaper

Latex gloves

Olive or linseed oil

Fine steel wool

Microfiber cloth or towel

Car wax

Brass brush bit

Power drill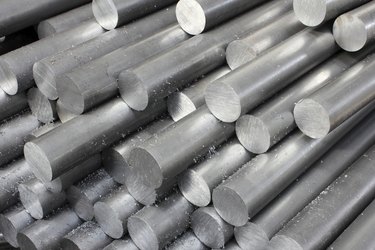 Making anything look older than it really is can be a tricky task, and working with new aluminum is no exception to the rule. True antique aluminum has that perfect patina and all the nicks and dents that tell a tale of the metal's history and use. Whether you are antiquing an aluminum breadbox or making your own piece of furniture that you want to look old, getting that aged patina you are looking for can be achieved with some good old-fashioned hard work.
Step 1
Clean off the metal with a dust cloth to prepare the metal for antiquing. If there is dust or grime on the metal, use a microfiber cloth and water to clean the aluminum.
Step 2
Make a few rub and scratch marks to imitate wear using a fine-grit sandpaper. Think of typical wear areas, such as corners and edges, and lightly rub the fine-grit sandpaper on those areas. Dust off sanded areas to remove any grit.
Step 3
Rub a thin coat of olive or linseed oil onto the aluminum using latex gloves. Lightly go over the entirety of the metal with a piece of fine steel wool and smooth out the scratches made by the sandpaper. Wipe off all of the oil using a microfiber cloth or towel.
Step 4
Coat the aluminum with a thick layer of clear car wax. Attach a brass brush bit to a power drill and go over the entire surface of the aluminum. Varying pressure will result in areas of the metal looking brighter or darker than others.
Step 5
Remove the wax with a microfiber cloth. Rub some areas more than others to give those areas a brighter sheen. Evaluate the aluminum and decide if the look you achieved is exactly what you want. Repeat any of the steps as preferred to get that perfect antiqued patina.
Tip
Determine the look and amount of antiquing you want to apply to your aluminum first. Starting with a small amount of aging and then building up to your preferred finish will give you the results you want.
Choose a brass brush bit that has a full brush, such as a brass wire cup brush.
Avoid using chemical cleaners to prepare the aluminum, as they can leave unwanted pits and stains.
Warning
Use protective eye-wear when buffing the metal with the power drill.