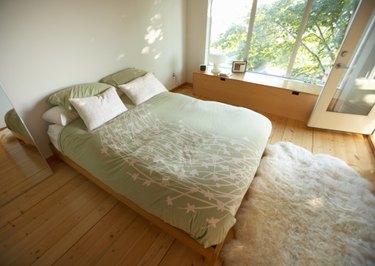 People change and so does their lifestyle, and you might be interested in making or buying a daybed to provide an extra place to sleep. Making an effort to turn a double bed into a sofa can help it better blend into the decor and provide extended family and friends with a comfortable spot to hang out or sleep. You can work with a bed you already have or buy something new and more versatile. It makes sense to try first if there is an extra bed; otherwise, you can do some shopping.
Turn a Double Bed Into a Sofa
What are the differences between sofas and daybeds? Sofas are designed for sitting and relaxing, and daybeds are half-bed/half-sofa combinations. They are sturdier than futons with frames on three sides (two arms and a back) and usually accommodate twin-size or full-size mattresses. You can also find queen and king-size ones. They serve as sofas most of the time and convert into extra beds when needed.
If you want to turn a double bed into a sofa, experts offer five methods to attain this without spending too much money. The first method involves making a plywood frame made to fit in a corner. The mattress goes on top and is then decorated with pillows in different sizes and colors. Another frame is more challenging to make and has a lovely zigzag chevron pattern. If you aren't handy, you can buy a twin bed couch frame and then pop the mattress right into it.
The easiest way to turn a double bed into a sofa is not to use a frame but instead incorporate both parts of the mattress set. Get a pair of sturdy wooden furniture legs, stain them to match your decor and screw them into the bottom of the box spring. Whichever way you do it, make sure that the bedding for any of these designs fits in with its surroundings and does not scream "bed."
Daybeds are made with all kinds of materials, including metal and wood, and some look more like sofas than others. If you want a king, queen, full or twin bed that looks like a couch, look for entirely upholstered ones. The look might not be a priority if you plan to keep it in a bedroom, but it can be much better in other rooms.
Some daybed frames have trundles to provide an extra bed closer to the floor, and others incorporate drawers into the bottom space for extra storage. The most common size for a daybed is twin, and these generally measure 39 inches by 75 inches. Full-size models are 54 inches by 75 inches.
Daybeds, Sofas and Mattresses
It's also important to know that some daybeds come with mattresses, and others do not. None come with box springs, as you don't need them because of the frames. This is one of the largest differences between purchasing a daybed and a sofa that has pull-out capability. While some pull-out sofas do enable you to change out the mattress as needed over time, they nearly always are sold with a mattress.
The best daybeds with mattresses included will feature firm support, may have two mattresses (trundle models) and might not be more expensive than those that don't have them. If you use your mattress, it might save you money, particularly if you already have a mattress at home that will fit. It also might not offer a cost savings, though, if the daybed without a mattress that you're considering simply costs more to start with.