Things You'll Need
Comforter

Dust ruffle (optional)

Assorted pillows

Short bookcases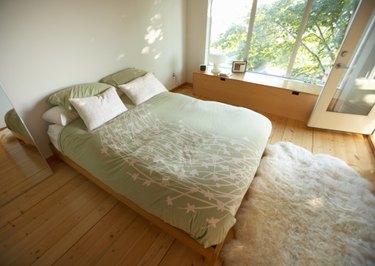 Many living spaces encourage the use of a daybed instead of a couch, particularly studio apartments and family room spaces that double as guest rooms. If the bed that you choose for a daybed is a double bed instead of the standard single bed, it's still possible to make it a daybed. However, some adjustments are necessary so that the double bed will still function as a couch. You'll decorate it as usual for a daybed, but you'll use more of some items than you normally would to compensate for the bed's size.
Step 1
Position one of the double bed's longest sides against a wall. A double bed with a low headboard and foot board works best because it functions visually as either a bed or a couch. A tall headboard and foot board do not look as much like the arms of a couch.
Step 2
Add bedding that looks more like upholstery than frilly bedding. For example, brocade and linen work well. A dust ruffle, if you use one, should be straight rather than full of ruffles. Tuck the comforter and the dust ruffle ends tightly so the bedding resembles the cushions of a couch. That will give the bed an upholstered appearance without an investment in upholstery.
Step 3
Layer assorted pillows on the bed. Pillows help with a number of decorating issues. Because this daybed is a double bed, its sitting area is deeper than a typical daybed or couch. The pillows will correct this so that people sitting on the daybed can place their feet on the floor. Additionally, the pillows provide color and decorative style to the piece, allowing it to fit in with the furnishings. Place the tallest and largest pillows in the back, and put smaller pillows in front of them until the sitting space that's left allows someone to place her feet on the floor. Her back should still be supported by the pillows. Place pillows at both ends of the bed to create armrests.
Step 4
Flank both ends of the bed with short bookcases. They will reinforce the bed frame and provide a place to put reading lamps and decorative knick-knacks.