Things You'll Need
1 whole turkey, thawed out

1 tsp. salt

1 tsp. freshly ground black pepper

1/2 cup softened butter

2 tbsp. rosemary

2 tbsp. sage

2 tbsp. dry thyme

1 cup white wine or chicken stock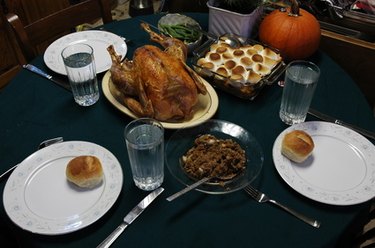 On Thanksgiving, the stove and the oven are filled with pots and pans due to all the dishes that need to be on the table by dinnertime. The turkey has to be in the oven for several hours, preventing other items from getting cooked, such as the green-bean casserole and the sweet potatoes. Using an electric roaster to cook the turkey keeps your oven free to cook and bake other items. Electric roasters conveniently sit on your kitchen countertop, making it easy to check on and baste the turkey.
Step 1
Plug in the roaster and turn the dial to 375 degrees Fahrenheit. Place a roasting rack into the pan.
Step 2
Place a thawed, whole turkey in the sink. The turkey should be 20 lbs. or less -- the size of bird an average roaster can cook. Remove the inside packet of turkey giblets and neck. Rinse the turkey with cold water inside and out. Pat it dry with paper towels.
Step 3
Combine the butter, rosemary, thyme and sage in a small bowl. Season the turkey with the salt and pepper, both inside and outside on the skin. Season the skin liberally with the butter mixture.
Step 4
Stuff the cavity of the turkey if you would like, with stuffing. The stuffing should not be packed in too tightly.
Step 5
Tie the drumsticks together using cooking twine. Secure the neck flap to the side of the turkey with a wooden skewer.
Step 6
Place the turkey into the roaster on top of the rack. Cover it with the lid. Allow the turkey to cook for about 15 minutes per lb. Baste the turkey with its own juices every 20 minutes or so, but add about a minute of cooking time each time you do, since opening the lid will slow down the cooking process. Add white wine or the chicken-broth mixture to the turkey juices for additional flavor if you would like.
Step 7
Lift your turkey out of the roaster carefully by the rack 45 minutes before the turkey is due to be finished, and place it inside of a roasting pan. Place the roasting pan in the oven at 400 degrees Fahrenheit so that the skin can get crispy. The turkey is finished when a thermometer stuck into the thickest part of the meat reads 170 degrees Fahrenheit.
Tip
Inject turkey marinade into the turkey using a syringe for more flavor and juicy meat.