Things You'll Need
Poker table

Roulette wheel

Blackjack table

Wheel of Fortune spinner

Craps table

Card dealers

Chips

Paper "money"

Prizes

Raffle tickets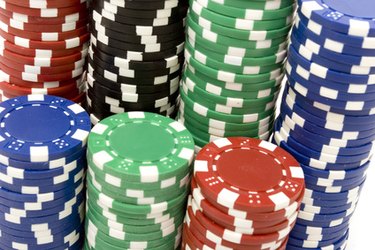 Monte Carlo nights, also referred to as Casino Nights, are a fun way to celebrate with friends or host a fundraiser for a charitable organization. Monte Carlo events give participants a chance to gamble at casino-style games using "play money" good only at the event. When the night is over, everyone has a chance to go home a winner as their imaginary earnings are exchanged for fun prizes. Monte Carlo events can be organized for groups of all sizes and offer an evening of Vegas entertainment close to home.
Step 1
Secure a location for the event with plenty of space to accommodate gaming tables, a food buffet and drink station. Contact local media and post fliers throughout the community to advertise your Monte Carlo Night if it is open to the public, or will be used as a fundraiser. Decorate the event space using casino and gambling-themed items, such as mirrors and dice.
Step 2
Plan enough games to allow at least 60 percent of the attendees to play at any time. Poker will occupy six individuals per table, while craps can accommodate up to 14 players. Rent casino tables and supplies from a party rental supply or local casino. Recruit volunteers, or hire professional dealers to man the different gaming stations throughout the evening. Set up areas so that the 40 percent of participants not playing a game can socialize, grab a snack from the buffet or enjoy a beverage.
Step 3
Begin the event by giving each individual a set amount of playing money. Typically, this will be paper printed to look like some kind of currency. Guests may start with up to $1,000 in play money. If you are having a fundraising event, you may want guests to start with less to encourage them to purchase additional play money. You can allow participants to purchase additional play money for less than its face value.
Step 4
Announce the opening of the gaming stations and allow participants to bet their play money at the games of their choice. Pay out "winnings" at the tables with casino chips that have an assigned dollar value.
Step 5
Conclude gaming play two to four hours after the start time, depending on the size of the group and overall time allowed for the event. Distribute prizes through a raffle where participants can exchange chips for raffle tickets, or through an auction where prize items can be purchased with the chips.
Warning
Check state laws regarding charitable gaming before planning a Monte Carlo Night fundraising event. Certain restrictions regarding the exchange of money and prizes may apply.