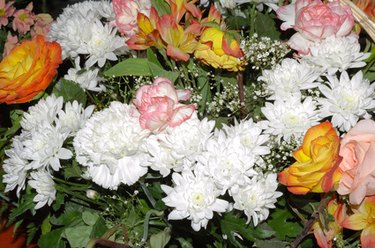 Mass flowers designs are full and lush, and you can make them with real or faux flowers and greenery. These arrangements are basically rounded bouquets of large flowers that are tightly grouped together. They can also have bunched, domed or triangular shapes. The other main categories of floral arrangements are line and line mass, and it is important to know which kinds of flowers work best with each.
Mass floral arrangements are thick and full with closed silhouettes. They use the most plant material with the goal of creating a colorful mass of flowers and foliage rather than focusing on individual blooms. This arrangement is a European design and is often used for significant events, like weddings and church services. Common mass flowers have a single stem and one solid, rounded head on top. Examples include carnations, roses, gerbera daisies and spider chrysanthemum.
Line arrangements have more linear patterns are based on Japanese aesthetics. They emphasize individual blooms and foliage and are often dramatic and bold with open silhouettes. They are sometimes only viewed from the front and can have three lines or placements. Line flower types include snapdragon, gladiolus, delphinium, liatris and tuberose.
As you would expect, line-mass arrangements combine the best of the European and Japanese styles. They have definite lines, a well-defined mass, open spaces and clean, uncluttered looks. The most dominant line will have a mass of plant material at the focal area and other flowers and foliage to enhance the linear shapes. Line-mass flower arrangements use line flowers, mass flowers and filler flowers, like ferns and baby's breath.
Mass Flowers Arrangements
To make a mass flowers arrangement, choose single-stemmed flowers with large, rounded heads. The types of form flowers you need depend on how big you want the arrangement to be; you can make small mass flowers arrangements if desired. Trim the bottom of the stems and take off damaged petals and extra leaves. Place the trimmed ones into an extra vase or bucket of water as you are working.
Create a floral tape grid over the mouth of the vase you will be using and stick the stems in through the holes in the grid, which will hold them steady. The goal of these arrangements is to draw the eye to the entire bouquet rather than individual flowers, so keep the flowers close together. Do not arrange them in lines by color; the overall effect should focus on the entire arrangement.
Finalizing Mass Floral Arrangements
You can add your greenery next, followed by the filler flowers. Take a couple of steps back and check the arrangement once all the pieces are in the vase. You can even go to the other side of the room to get a very clear look at the whole picture.
If anything is standing out or seems like it is a line, make adjustments. To get a more rounded, triangular or domed shape, you will have to trim some of the stems. Only do this a little bit at a time because once the stem is too short, you may find that there is no appropriate place to put it.