Things You'll Need
Large stem flowers

Small stem flowers

Greenery

Container

Oasis or moss

Floral foam

Knife

Floral tape

Wire cutters or floral shears

Floral pins

Water, for fresh flowers only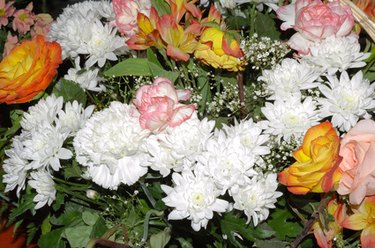 Mass floral designs are arrangements where you place the flowers very close together in a dense design. Many mass arrangements have circular, fan or triangular shapes that are used for centerpieces and focal points within a room. A typical mass floral design will consist of at least three different large flower types, smaller filler flowers and greenery. You can create these arrangements with fresh, dried or silk flowers using symmetrical or asymmetrical design techniques.
Step 1
Cut the floral foam to size and place it in the container. The foam should extend approximately one quarter of an inch above the top of the container. If you are using fresh flowers, soak the foam before you insert it into the floral container. Tape the foam in place with waterproof floral tape, if necessary.
Step 2
Cover the floral foam with oasis or moss. The dried oasis or moss will keep the foam from view but will allow water to pass through if you need to add water. Secure the oasis or moss with floral pins.
Step 3
Insert the greenery stems into the floral foam covering one quarter to one third of the area. Use the greenery to create the overall shape of the arrangement. You can choose a shape based on your preference and container size. Short containers lend themselves toward circular arrangements while tall vases are popular choices for triangle and fan arrangements. Cut the stems before you place the greenery so that you can control the height of the arrangement. Popular greenery include leatherleaf, ivy, eucalyptus and cedar.
Step 4
Place the large focal flowers into the arrangement. Cut each stem before you place it in the arrangement. For circular shapes, you can place the flowers evenly throughout the arrangement. For tall triangular or fan shapes, use the larger blooms toward the base of the arrangement and smaller blooms toward the top. Focal flowers can include roses, chrysanthemums, peonies, lilies and daisies.
Step 5
Fill the remaining open space in the arrangement with small filler flowers, such as baby's breath, caspia, berries and cornflowers.
Tip
If you are using fresh greenery and flowers, submerge the stems in a bowl of water and then cut them to your preferred length. Use floral picks and pins to hold weak stems in place.