Things You'll Need
Organic (biodegradable) waste materials

Soil to use for the compost pit

Shovel

Wood planks already meant as trash

Ammonium sulphate or chicken or dog manure

Calcium carbonate

Sprinkling containers for ammonium sulphate and calcium carbonate

Water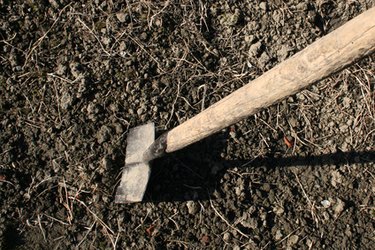 Filipinos are fond of gardening. Many households grow flowering plants, vegetables and fruit-bearing trees in their gardens. In most Philippine provinces, a number of Filipinos still live in rural areas and support themselves through farming, livestock and forestry. With a landscape fit for planting various types of agricultural products, gardeners and farmers take advantage of practical ways to condition their land. In the Philippines, making compost pits is an easy, affordable and effective way to maintain heathy soil fit for organic farming.
Step 1
Prepare the waste materials to use for the compost. Popular materials used for compost in the Philippines include rice, fruit peels and scraps of food left after a meal, along with dried leaves, unused vegetable leaves, hedge cuttings, plant clippings, wilted plant parts and overripe fruits from a typical Filipino garden.
Step 2
Dig a compost pit on the soil to be used for planting or gardening. The size generally depends on what can accommodate the amount of waste materials you have. For a home garden, this is usually placed in the area where you want to grow new plants in the near future. In rural areas, make a larger pit or a number of pits to keep the entire land healthy. As a benchmark, make a compost pit about 2.5 meters (8.2 feet) long by 1.5 meters (5 feet) wide. Dig the targeted soil to a depth of about 1.5 to 2.5 meters (5 to 8.2 feet). Enclose three of its sides with wood measuring up to a height of about 1 meter (3.3 feet). Leave the front side open for easy access so you can simply put all waste materials in the pit every now and then. This secures the pit until it is filled up.
Step 3
Put the separated organic wastes in the compost bin.
Step 4
Sprinkle a liberal amount of ammonium sulphate per square meter around the pit, once the waste materials reach ground level. Chicken or dog manure can also be used if you have no access to ammonium sulphate. Make sure you cover manure with a thick layer of soil for hygienic purposes and to avoid flies from hovering around the area.
Step 5
Top the pit with a thin level of garden and kitchen refuse measuring about 15 centimeters, then thoroughly soak the pit with water.
Step 6
Sprinkle the top of the watered pit with lime or calcium carbonate, then repeat the layering of garden and kitchen refuse measuring about 15 centimeters in thickness, watering the surface and sprinkling lime or calcium carbonate over it. Repeat the entire layering process at least four more times.
Step 7
Wait for about one to two months until the pit contents decompose so the soil fully absorbs the nutrients from the decomposition process. After which, you can use the area for planting.
Tip
The Philippines uses the metric system of measurement.
Selling compost can be a good green business idea where you can earn profit from waste materials. If you don't have a garden, you may partner with agricultural companies and local farmers who need good soil to plant their produce.
Warning
For a simple compost coming from scraps and leftovers in the kitchen and other parts of the house, don't include those that are non-biodegradable.
Be careful with possible health hazards caused by too much exposure to compost. Decaying materials get microorganisms that may possibly cause allergies. The humid weather in the Philippines can also hasten the growth of a number of microorganisms. Generally, these microorganisms are nonpathogenic, yet they can still cause some simple inconveniences such as itching.
To avoid health problems from overexposure to composts, cover your nose and mouth with mask when working on decaying materials. It is also ideal to wear longsleeved clothes, gloves and protective footwear, especially when working on big pits. Always wash the body and hands after working on a pit.