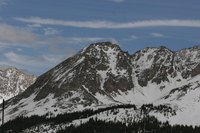 Paper mache is a cheap and easy way for students to create an object for a school report. The paper mache is made from common household items that can be found in most homes. The glue is mixed and paper is used to cover an object to create another objects. A paper mache mountain can be made with just a few items and makes a good visual for students to use in a report, speech or book report.
Things You'll Need
Water
Flour
Strips of newspaper
Poster board
Mix the flour solution. Mix one part water to one part flour to create a homemade glue that works well for paper mache.
Roll a piece of poster board into a cone shape. Tape the cone securely in place. Cut the bottom so it is straight all around the bottom. Cut off the top so that the mountain is not too pointy on top.
Soak the strips of newspaper in the flour solution one at a time. Use your fingers to strip off the excess solution before applying the strips.
Apply the wet newspaper strips to the poster board cone until you have covered the entire cone. Lay the strips as flat as possible. Use several layers for added stability.
Allow the mountain to dry. Depending on the size of your mountain and how wet the strips are, it can take up to 13 hours to completely dry.
Paint the mountain for a more realistic look. Use colors such as brown and green for grass, trees and dirt. Use gray to create rocks or boulders scattered on your mountain. Use white to create a snow-capped mountain.