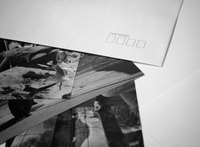 Laminating a photo to a piece of wood uses the process of decoupage. Decoupaging puts a clear hard sealer over the top of a picture and permanently secures it to the piece of wood. A special brush-on decoupaging solution is available at local hobby and craft stores. The solution dries clear and creates a hard permanent surface.
Things You'll Need
Newspaper
Wood plaque
Soft lint-free cloth
Photograph
White glue
Decoupage solution
Paintbrush
Cover a flat stable work surface with newspaper. Wipe any dust from the surface of the wood plaque. Place the wood plaque on the work surface.
Turn the photo over so the back is facing up. Squeeze a line of white glue 1/2-inch in from the edges of the photo. Spread the glue on the back of the photograph with your finger to create a very thin layer. Keep the glue 1/8-inch in from all edges.
Turn the photo over so the glued surface is on the bottom. Hold the photo over the wood plaque and determine the desired position. Put the photo straight down on the plaque. Carefully smooth the photo onto the wood surface beginning in the middle of the photo working your way out to the edges. Carefully wipe off any glue showing around the edges. Allow the glue to dry for 15 minutes.
Gently dip the paintbrush in the decoupage solution trying not to create any bubbles.
Place the edge of the paintbrush in the top left hand corner. Pull the paintbrush straight down the wood plaque. Repeat the process until the plaque is covered with decoupage solution. Add more solution to the paintbrush as needed. Allow the layer to dry 30 minutes. Repeat the process for a total of three layers.