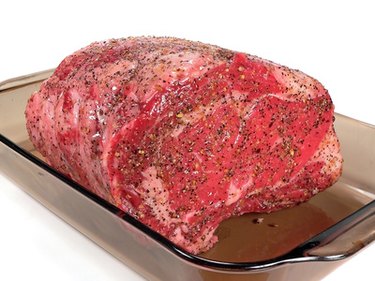 Prime rib is a cut of beef that is often served at weddings or other upscale gatherings. Prime rib generally has a lot of marbling through the meat, which makes for even fat distribution during cooking. Some people prefer to sear a prime rib on high heat and then finish it in the oven, while others prefer to roast prime rib from the start. Cooking your prime rib in a smoker is another way to prepare it that also gives you the flavor of the smoke on top of the meat.
Step 1
Season your prime rib with either a dry rub or wet marinade of your choice. Choose an Asian theme, bold barbecue, or just some salt and pepper.
Step 2
Add wood chips or wood to your smoker according to the instructions. Turn the smoker "On" and wait for the smoke.
Step 3
Insert a remote digital thermometer in the meat and lay the prime rib with the bone-side down on top of the grate. Close the lid quickly, so that smoke does not escape.
Step 4
Leave the prime rib in the smoker for about 15 to 20 minutes per lb. at 265 degrees Fahrenheit.
Step 5
Look at the thermometer periodically, so you don't leave it in too long. Rare is 130 degrees Fahrenheit; medium rare is 140 degrees Fahrenheit; and medium is 150 degrees Fahrenheit. Remove the prime rib when the temperature is still 5 to 10 degrees below what you want, because it will continue to cook.
Step 6
Cover the meat with aluminum foil and let it stand for 10 to 20 minutes. Remove the ribs and slice the prime rib into thin, ½-inch slices to serve.