Things You'll Need
Silver polishing cloth

Hack saw

Sandpaper

Propane or butane torch

Metal tongs

Bowl

Bracelet mandrel

Rawhide mallet

Key ring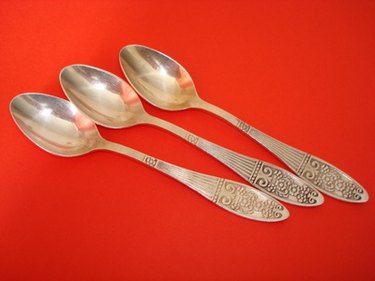 You can transform sterling silver spoons into attractive, personalized key rings that can be given as gifts or sold at a craft stand or online store. The most difficult part of this craft is bending the spoon — you can try bending it by hand, but this weakens the spoon and may cause it to break apart. For best results, you can use a butane or propane torch to evenly heat the spoon and make it more pliable.
Step 1
Polish your spoon with a silver polishing cloth (optional).
Step 2
Use a hack saw to cut the handle off of the spoon. You will be using the handle to make the key ring.
Step 3
Sand the rough, sawed area with sandpaper.
Step 4
Place your spoon on a metal table or other fireproof work surface.
Step 5
Turn on the flame of your propane or butane torch. Move the flame back and forth over your spoon until it turns red and begins to glow. Turn off your flame.
Step 6
Use metal tongs to transfer your spoon into a bowl of cold water. Wait a few minutes for it to cool.
Step 7
Remove the spoon by hand. To make a circular key ring, press your spoon handle against a bracelet mandrel, with the attractive side of the spoon facing out. For a long key ring (see Resources for an example), place the narrow end of the spoon handle on top of a traditional key ring with the attractive side facing up.
Step 8
Hammer the spoon with a rawhide mallet. Hammer evenly around the bracelet mandrel to make a circular key ring. To make a long key ring, hammer the narrow end of the spoon handle to bend it around a traditional key ring and hold it in place. The long key ring is now completed.
Step 9
Slide the spoon off of the bracelet mandrel and slide a traditional key ring over the narrow end.