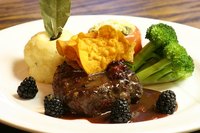 Filet mignon is a small, high-quality cut of meat acquired from the end of the tenderloin section, and is translated from the French as "dainty fillet." Prized for its tender, rich texture with the right amount of fat for full flavor, yet not overly fatty, filet mignon is often referred to as the "King of steaks" by many chefs and steak lovers. While cooking such a revered piece of meat on a gas grill may be intimidating to some relatively inexperienced chefs, its quality may actually be an advantage, as a good piece of meat requires little help in the flavor department.
Things You'll Need
Kitchen brush
Extra virgin olive oil
Sea salt
Freshly ground black pepper
Grill
Remove the meat from the refrigerator one hour before you want to cook it. Leave it covered at room temperature.
Brush the meat with a thin layer of extra virgin olive oil on both sides. Sprinkle sea salt and freshly ground black pepper on both sides of the filet mignon.
Set your gas grill to the highest possible temperature and allow it to heat for 30 minutes with the lid down.
Place the steak on the grill with a pair of large tongs. Let the steak cook for one minute for rare, two minutes for medium-rare, and three minutes maximum.
Rotate the meat 90 degrees on the same side. Cook for the same amount of time at this position, depending on how done you want your filet mignon.
Flip the steak over and cook for the same amount of time as the first side.
Rotate the steak 90 degrees on the second side and allow the steak to cook as long as desired.
Transfer the cooked meat to a plate. Allow the meat to rest for three minutes. Serve after three minutes has passed.