Things You'll Need
Hat

Khakis

Rugged boots

Satchel

Camera

Binoculars

Brushes

Picks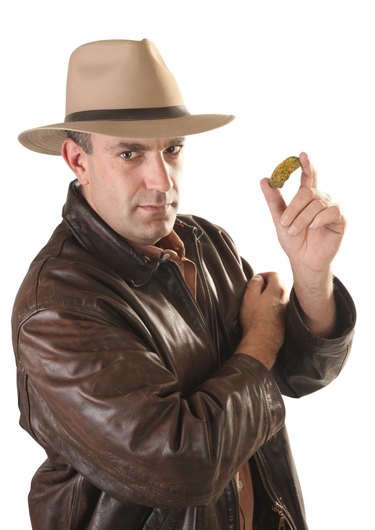 From "Indiana Jones" to "Jurassic Park," movie depictions have colored how the world envisions archaeologists. You can rely on this Hollywood stereotype to create a costume that is easy to recognize yet rarely worn. An archaeologist costume is also easy to put together -- it only requires the right hat, khakis, and accessories.
Step 1
Find a pair of properly fitting khaki pants and shirt. Light tan is the color most often associated with the archaeologist stereotype. Look for ones with lots of pockets. You can also choose to wear a pair of khaki shorts if it is warm out.
Step 2
Select an appropriate hat. A number of classic archaeologist stereotypes wear hats. Henry "Indiana" Jones wears a brown felt fedora. Dr. Alan Grant -- a paleontologist in "Jurassic Park" -- wears a straw fedora with a wide brim. Or you could go with the sturdy Pith helmet associated with early archaeologists and jungle explorers.
Step 3
Select a good pair of rugged hiking boots. These should ideally be brown leather ankle or calf boots. Add a pair of comfortable socks. If you plan on wearing khaki shorts, you might want long tan or white socks that are visible above the boot. Pick out a pair that you are comfortable walking around in for a few hours, since you will likely be wearing this costume to a party.
Step 4
Complete your look with the right accessories. If you want to continue with the Indiana Jones look, get a prop whip and toy gun with the appropriate holders to wear on your belt. A durable brown or tan satchel is a good accessory for any archaeologist. Get a fake brush and pick set to keep in your satchel or have poking out of a cargo pocket. Other options include a pair of binoculars or an older style camera to wear around your neck.
Tip
Add a fake mustache or beard to help disguise your face as well.