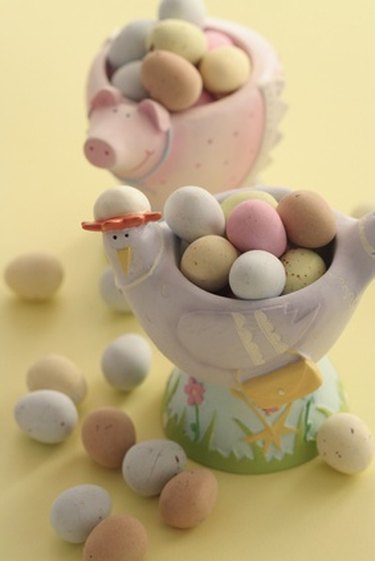 Easter is a religious holiday for those of the Christian faith, celebrating the resurrection of Jesus Christ three days after his crucifixion. While it's considered a religious holiday, there are some that place importance on the Easter bunny, egg hunts and time with family. When you are sending cards to friends and family, coming up with an Easter greeting may be tricky depending on the recipient. By having a variety of Easter greeting ideas, you can send appropriate messages to a variety of people and age groups.
Step 1
Decide what type of greeting you want to send to the card recipient. For example, a child may like a card with an age-friendly joke or Easter story, while an adult might appreciate a quote or religious message.
Step 2
Include an Easter joke in with a child's card. For example, Deepest Feelings has a variety of jokes that kids will find humorous. One joke to be used as a greeting would be "What did the bunny say after hiding all of the eggs?" "Hoppy Easter, (name of child)!"
Step 3
Write a quote for an Easter card greeting. You can include bible quotes that pertain to the resurrection, or choose a quote from notable figures, philosophers or literary icons. Quotes can be about the hope and love Easter represents or the message of Christ's resurrection.
Step 4
Write down a poem in place of a greeting. A poem can be used for recipients of all ages. Poem examples range from "On Easter Day" to "I Had an Easter Bunny."