Things You'll Need
Old Christmas lights

Recyclable box

Pen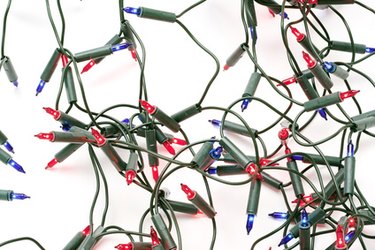 Many people string lights on their tree, the outside of their home, on their mantle and in many other decorations during Christmas time. When your strands of Christmas lights no longer work, recycle them rather than tossing them in the trash bin. While some recycling companies will not accept Christmas lights, others will. These companies use the parts of the Christmas tree lights to make more lights and other items.
Step 1
Twist your old strands of Christmas lights up so that they are as small as you can make them.
Step 2
Place the Christmas lights into a recyclable box. Most companies will recycle the box as well as the Christmas lights. Do not include packing materials, such as bubble wrap, plastic or Styrofoam, as that will provide more trash that needs to be recycled. Use the smallest box you can find in which the lights will fit.
Step 3
Look online for the address of a recycling company that accepts strands of Christmas lights, such as the HolidayLEDs website.
Step 4
Write the company's address on the center of the box. Write your return address on the top left corner of the box.
Step 5
Take the box to the post office or a shipping company, purchase the correct postage and send it off.