Things You'll Need
Glass bottle

Soapy water

Kiln

Detrivication solution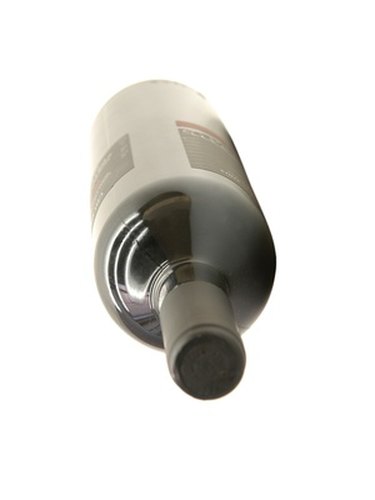 Slumped glass bottles are a guaranteed conversation piece. Made from recycled wine bottles, slumped glass bottles are in common use as cheese trays, nut bowls or ladle holders.
Slump the Bottle
Step 2
Remove the label from the bottle by soaking the bottle in warm soapy water for 10 minutes. The label should easily peel away.
Step 3
Remove any glue residue from the bottle.
Step 4
Apply detrivication solution to the bottle. You can apply detrivication solution (or devit spray) using a paint brush or spray bottle. For best results, an even application all over the bottle is recommended.
Step 5
Lay the bottle flat in the kiln. (If you are using a mold, lay the bottle in the mold. Ensure that you have treated the mold with kiln wash prior to use.)
Step 6
Following the kiln's firing schedules, slowly raise the temperature of the kiln to 800C.
Step 7
Turn the kiln off and allow the glass bottle to cool overnight. When you open the kiln in the morning, the bottle will have slumped.
Add Decorations to the Bottle
Step 1
If so desired, you can apply decorations to the bottle using Huse 2 Fuse pigments.
Step 2
Paint the Huse 2 Fuse pigment on the bottle. You can complete this step free hand, or with a stencil.
Step 3
Fire the painted bottle in the kiln. Follow the Kiln's firing schedule.
Tip
Detrivication spray will prevent the glass from clouding.
Attain shapes by utilizing molds in the slumping process.
A lengthy hold time in step 2 of the firing process should help prevent bubbles.
You can use Huse 2 pigmentation products to add decorations to a bottle. Apply decorations before the first firing, or after the bottle has been slumped. The pigmentation will have different effects depending on when it is applied.
Warning
You must apply kiiln wash to the shelves of the kiln prior to melting glass bottles. Without kiln wash, melted bottles will adhere to the kiln itself.
Heating the kiln slowly will prevent stress to the bottle. Heating the bottle too quickly may cause the bottle to break. Follow the primary firing schedule on the digital kiln.
Firing schedules will change if you use molds.