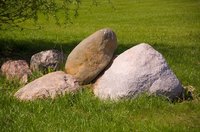 The nice thing about making stage props is that you don't have to fool anyone up close. The audience is going to be at least 15 to 20 feet away. That makes polystyrene foam the perfect material for creating many props, including rocks. Polystyrene-foam rocks are lightweight, but the audience doesn't know that. The only people who will know are the actors and the stagehands, who will be grateful that they are not heavy.
Things You'll Need
Cube of polystyrene foam
Bread knife
Nontoxic all-surface sealant
Brush
Acrylic paints
Sponges
Cut all sharp corners and edges off of the polystyrene cube with the bread knife.
Gouge out divots and create irregularities with your fingers. Eliminate all flat surfaces.
Apply a coat of sealant all around the fake rock with the brush. Allow to dry.
Sponge on a base coat with a natural tone of acrylic paint. Add black or brown to the base coat color, and randomly apply a few blotches to the rock, while the first coat is still wet. The goal is to create a mottled appearance.
Mix white paint with your base coat color. After the first two coats of paint have dried, lightly apply some highlights using the sponge and the lighter colored paint.