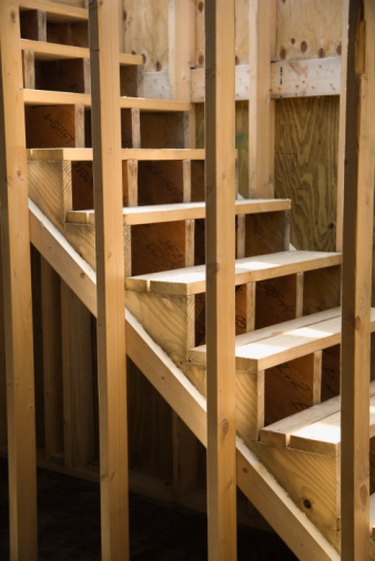 If you see dark spots on your walls that are spreading outward over time, do not wait – it could be time for you to get a mold killer. Drywall mold can be particularly hazardous since it can multiply and damage your property's structural integrity, and it can be dangerous to your health.
Mold on Studs Behind Drywall
The leading cause of mold growth on walls is water damage. If you see a good amount of mold plus yellowish or brownish water stains and water rings, the mold may be behind the drywall and in the studs. The walls might also start to deteriorate, which you might notice if you see symptoms like bubbling, cracking or peeling paint. The walls can even start to bulge or bow from the moisture as the situation worsens.
A telltale sign of mold is that musty odor that smells like a damp forest. You can go up to the electrical outlets in the suspected area and sniff because these provide reasonable access to the space right behind the wall. Other problems caused by mold are allergies, congestion and breathing problems. Remember that black mold can be toxic, so if you are concerned about this, you'll need to turn to the experts for guidelines about managing it.
Preparing to Remove the Mold
If your mold problem is not extensive, you can use a wood mold remover to clean up your drywall. Before attempting to repair the damage, find out where the moisture is coming from and stop it. It could be water vapor weeping out through a concrete floor, a roofing problem or a leaky window. Experts stress the importance of wearing protective gear, like rubber gloves, safety glasses, a respirator mask, long sleeves and long pants.
There is the possibility that the mold has penetrated the drywall and has gotten into the studs behind the wall. If the staining and smell are extensive and the wall is crumbling, you may have to remove the drywall to investigate. A professional mold removal company might need to come in, and you might also have to replace the drywall. However, if the studs are exposed, you should be able to remove the mold yourself.
Before buying mold removal products, you might want to buy a mold testing kit. Some products that the experts recommend include ImmunoLytics, Seeml Labs and Inspection Network DIY products. To remove the mold yourself, have a wet/dry vacuum with a HEPA filter and attachment, plastic sheeting and a fan. You'll also need a medium-bristle brush, cleaning wipes and a wood mold remover.
To make your wood mold remover, mix one part bleach and three parts water. You can keep it in a bucket or pour it into a spray bottle. If you want a commercial mold and mildew remover, experts recommend RMR-86, Lemocide, Tilex with Clorox Mold & Mildew Formula, Concrobium and Mold Armor Cleaner. Experts believe that these cleaners are better at killing the mold's roots. To get started, protect the floor with a tarp and turn on a fan (and open windows). Vacuum the drywall or studs first with a HEPA vacuum using the brush attachment.
Once you have vacuumed up those loose mold spores, apply your cleaning solution and let it sit for 10 minutes. Brush it in and it should start to loosen. Mold removal products work differently, so read the label instructions before using them. You may have to use different methods. You can wipe down the surface with household cleaning wipes, and once it is dry and the mold is gone, you can apply a mold-killing primer and repaint.