Things You'll Need
Mashed potatoes

Flour

Milk

Water

Measuring spoons

Butter

Small saucepan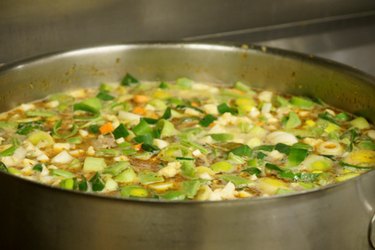 Soup is a dish you can eat just about any time. It's a satisfying accompaniment to a lunch-time sandwich, or add a vegetable soup to your dinner for a delicious and healthy first course. Homemade vegetable soup often includes vegetables such as carrots, green beans and potatoes. There are many variations of vegetable soup. If your soup is looking too watery, consider thickening the broth make a heartier dish.
Step 1
Make mashed potatoes. Instant mashed potatoes or regular mashed potatoes are fine. The amount that you need depends on the amount of soup you want to thicken. Stir it in 1 tbsp. at a time and stir continuously. Keep doing so until the the vegetable soup starts to thicken.
Step 2
Make a flour paste. For each cup of vegetable soup, you will need one to 1 to 1 1/2 tsp. of flour. Adjust this amount accordingly based on how much soup you are making. Mix in double that amount of milk or water. Stir it until it forms a paste. Put it in to thicken vegetable soup and stir slowly for 10 minutes.
Step 3
Melt one tbsp. butter in a small saucepan. Add one to two tbsp. of flour to the butter. Quickly stir until the mixture is smooth. Immediately pour the mixture into the vegetable soup and stir.
Warning
Take care not to brown the butter.