Things You'll Need
9 Popsicle sticks

Crafting table or mat

Scissors

Glue gun

Hot glue sticks (regular strength)

Acrylic paint

Paint brushes in different sizes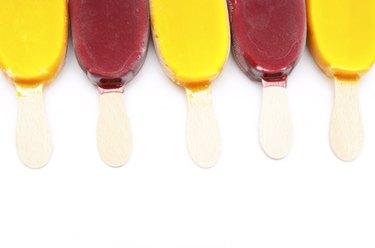 Making doll house furniture out of Popsicle sticks is a fun and rewarding project for children and parents alike. With some imagination, children can craft sofas, chairs, tables and beds for their dolls. Adding paint to the miniature furniture brightens up the otherwise neutral tones. Making doll furniture out of Popsicle sticks also provides a cheap alternative to buying furniture. One realistic and fun addition to your child's doll house is a wooden bench, which offers casual seating for multiple dolls.
Step 1
Place three Popsicle sticks beside one another, one-half inch apart, on a crafting table or mat. They will form the seat of the bench.
Step 2
Cut one stick in half with scissors. Spread a few drops of hot glue on either end of the seat, about one inch from the edges. Place half of the stick on either side of the seat, perpendicular to the other sticks. Press down and hold. These supports will keep the seat in place and make the doll bench look like an old-fashioned park bench.
Step 3
Assemble a second set of three Popsicle sticks in the same fashion. Place them on the crafting surface, each one-half inch apart. Break another stick in half and glue it perpendicular to the back, one inch inward from the edges, to form the back rest.
Step 4
Cut two more Popsicle sticks in half to serve as legs for the bench. Glue the legs perpendicular up to the vertical beams, one at a time, using a drip of hot glue for each leg. Hold the legs in place until the glue cools and you can place the bench right side down.
Step 5
Turn over the seat and spread a few drops of hot glue along the back of the seat. Attach the back rest and hold it in place until the glue cools.
Step 6
Paint the bench with acrylic paint or leave it as is for a more natural, wooden look. Embellish the bench by painting small decorative flowers or designs using a smaller paint brush. Apply a coat of gloss over the paint once it has dried for a nicer finish.
Tip
Allow the glue gun to heat up for a few minutes before using it. The hotter the glue, the easier it is to work with since it cools down and hardens very quickly once applied.
Warning
Never allow a child to use a glue gun unsupervised as hot glue can lead to minor burns and tears.