All-in-one casseroles take some of the stress out of meal planning, and Cheesy Chicken Divan With Rice includes a grain, vegetable, protein and dairy in every serving. It's inexpensive to make, easy to prepare, and just as delicious reheated as it is the day you make it. Cheesy Chicken Divan With Rice also freezes well, so it's a great choice for a recipe to double and save half for later.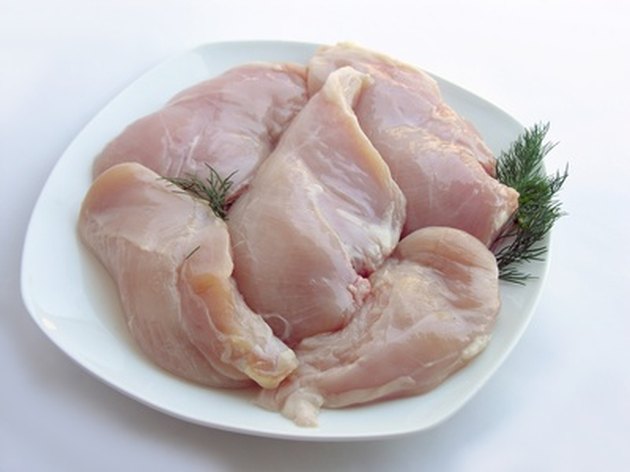 Things You'll Need
9-inch-by-13-inch casserole dish

3 cups cooked rice

14-to-20-oz. package frozen broccoli florets

8 boneless, skinless chicken breasts

2 cans cream of mushroom condensed soup (10.75 oz.)

1 cup mayonnaise

Small mixing bowl

2 cups grated cheddar cheese

Salt and pepper to taste
Step 1
Fill bottom of ungreased casserole dish with cooked rice.
Step 2
Cover evenly with broccoli. Use more (20 oz.) or less (14 oz.) broccoli, to taste.
Step 3
Place chicken on top of broccoli and rice. Distribute evenly in pan.
Step 4
Combine condensed soup and mayonnaise in a small mixing bowl and spread over chicken, covering it completely.
Step 5
Sprinkle with grated cheddar cheese until covered evenly.
Step 6
Sprinkle with salt and pepper.
Step 7
Bake at 350 degrees Fahrenheit for 60 minutes, or until chicken reaches an internal temperature of 165 degrees Fahrenheit.
Tip
You can use fresh or frozen broccoli for this recipe.
Use brown rice instead of white rice for additional fiber.
Eating solo? Cut the ingredients in half and just use a smaller dish.
Serve alone, or with a side salad and bread.
Warning
Wash hands and surfaces thoroughly after handling raw chicken.
According to the U.S. Department of Agriculture Food Safety and Inspection Service, chicken breasts should reach an internal temperature of 165 degrees Fahrenheit to be safe to eat.