Things You'll Need
Concrete forms

Rebar

Portable cutoff saw

Steel wire

Concrete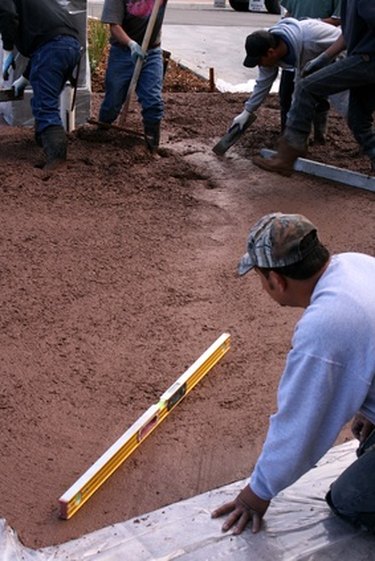 Concrete footings, the part of the foundation that extend below the frost line and hold a building firmly in the ground, form the base of many architectural designs. Adding steel rebar further enhances the strength of concrete footings by giving the cement something structural to cling to as it cures.
Step 1
Excavate and install the building's concrete forms according to the architectural design. Depending on the average winter temperatures, this usually requires builders to dig a trough about 24 inches wide and 4 feet deep, then line it with two planes of 1/4-inch plywood that are 8 inches apart.
Step 2
Place a web of rebar into the middle of the two pieces of plywood. At the end of one web, insert another web, then wire the two webs together with a generous amount of steel wire.
Step 3
Continue inserting new webs and wiring them together until the entire footing has been lined with rebar.
Step 4
Cut excess rebar from the top of the footings with a cutoff saw about 6 inches below the planned top of the footing.
Step 5
Wrap one end of a piece of steel wire around nails in the footings about every 4 feet, then wrap the other end around the rebar. This will hold the rebar in place when the concrete is poured into the forms.
Step 6
Pour the concrete into the forms and smooth according to the building's architectural design and allow the concrete to cure.
Tip
Don't forget to install anchor bolts into the concrete while it's still wet. Failure to do so will end up costing more money to buy add-on bolts and will reduce the bolts' overall ability to support weight.