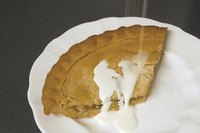 Keeping a pie crust flaky involves three factors: fat distribution, low gluten development and preventing sogginess while the pie bakes. You want to make sure the fat you use is not over-mixed in the dough. Over-mixing will produce a mealy crust. Gluten development will make the crust chewy. Sogginess can be avoided by either providing a barrier in fruit pies or preventing the canned fillings from boiling the crust.
Things You'll Need
2 cups flour
3/4 cup vegetable shortening
1/4 to 1/2 cup ice-cold water
Salt
Eggs
White cake pieces
Rolling pin
Pie tin
Pastry brush
Plastic wrap
Pie Dough
Chill in the freezer 1/2 cup of water with 1 tsp. of salt stirred into it.
Mix 2 cups flour and 3/4 cups vegetable shortening until the shortening pieces are almond sized.
Mix in the water and salt 1 to 2 tbsp. at a time, just until the dough forms into a loose ball.
Flour your counter and dump the dough out. Lightly roll the dough into a log and wrap it in plastic wrap. Do not knead it. Let it rest in the fridge or freezer overnight.
Let the dough warm on your counter. Knead it slightly before rolling, just enough to make it pliable. Rest the bottoms in the freezer for at least two hours before filling.
Fresh Fruit Pies
Slice the white cake to create a 1/4-inch layer of the bottom of the pie shell and fill the pie on top.
Brush the seam with egg wash. Top the pie, cutting a hole or slices in the top before putting the top on. Pinch the seam closed.
Egg wash the top and bake at 375 Fahrenheit immediately for 40 to 50 minutes.
Canned Pie Fillings
Fill and top as with the fresh fruit pie. Egg wash the top.
Bake the pie frozen without thawing at 375 Fahrenheit for 40 to 50 minutes. This allows the shell to bake before the pie filling starts bubbling.
Cream Pies
Roll your pie dough for the bottom shell as for the other pies, but make holes in the dough with a docker or fork to prevent buckling.
Freeze the shell for at least two hours, then place another tin over top and flip it upside down, keeping both pie shells in place.
Bake for 10 minutes at 400 Fahrenheit for pies that will not need further baking, and for only 5 minutes 400 Fahrenheit for cream pies that need to be baked.