Things You'll Need
Broom

Garden hose

Nozzle

Water

Chloride bleach

Bucket

Mop

Sponge

Garden clippers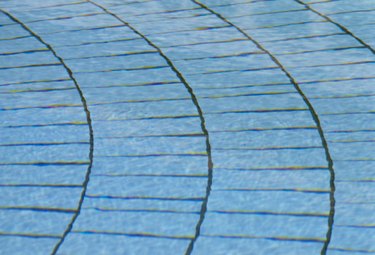 Mold is easy to remove from stone pavers but difficult to permanently stop. Mold thrives in moist environments and grows well on pavers and other stone surfaces. If you want to stop the moisture from coming back, you will need to keep the pavers more dry. Depending on the environment you live in, this may not be an option; if you live somewhere cool and damp, you may have to periodically treat the pavers in lieu of a more permanent solution.
Step 1
Sweep dirt off the pavers with a broom. Spray them with a hose and nozzle then let the pavers dry. This will ensure the bleach gets to the pavers and make mopping the stones an easier, less messy job.
Step 2
Fill a bucket with 1 part household chloride bleach and 10 parts water.
Step 3
Place a mop in the mixture, wring it out and mop the pavers on a warm, sunny day. Go over them thoroughly to make sure the water penetrates the pores in the stone. Do not get bleach water on any nearby plants, as it will kill them. If your pavers are surrounded by garden plants (for example, if you have a garden path) use a sponge instead of a mop to clean them without accidentally sprinkling nearby plants.
Step 4
Leave the bleach water sitting on the pavers until it dries completely. Wash the pavers thoroughly with clean water. You may either spray them with a hose, mop or sponge them off.
Step 5
Cut back foliage around the pavers with garden clippers. This will give the pavers more sun and air circulation, discouraging mold regrowth. Water any plants in the area carefully to avoid getting water on the pavers.
Step 6
Bleach the pavers and rinse them again if mold starts to grow back.
Warning
Be sure to rinse the pavers off thoroughly. Otherwise, they will get slippery every time they get wet.