Things You'll Need
Sharp knife

Pepper

Coarse salt

Wholegrain mustard

Dried savory

Dried thyme

Meat thermometer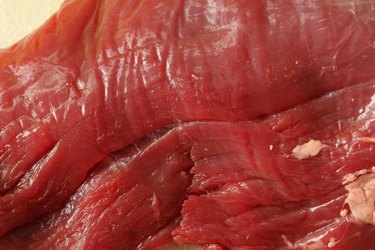 Cooking a whole beef tenderloin can be a special treat for family and friends at a holiday meal or an impressive dish for a dinner party. The tenderloin is the cut of beef than includes the filet mignon. The meat is very tender and somewhat mild in flavor. Its long, rounded shape carves easily into perfectly-sized portions. You can add seasonings to enhance this cut's mild flavor, or simply cook it as is. Whole beef tenderloin makes an impressive and appetizing presentation on the dinner table.
Step 1
Remove any fat from the outside of the tenderloin with a sharp knife.
Step 2
Slip the knife underneath the silverskin and lift it up approximately 45 degrees so that it scrapes along the underside of the silverskin. Pull the knife forward to remove the silver skin.
Step 3
Set the oven to 425 degrees Fahrenheit.
Step 4
Rub the tenderloin liberally with pepper and coarse salt. Brush the tenderloin with a mixture of whole-grain mustard, dried thyme and dried savory, if desired.
Step 5
Place the tenderloin on a rack in a roasting pan. Place the rack in the middle of the oven.
Step 6
Cook the 9-lb. beef tenderloin for 90 minutes or until the internal temperature reaches 125 degrees Fahrenheit for medium rare, 145 degrees Fahrenheit for medium or 165 degrees for well-done. Measure the temperature with a meat thermometer, bearing in mind that when the middle of the tenderloin is cooked to 145 degrees Fahrenheit, the ends will be well-done.
Step 7
Allow the beef tenderloin to rest in a warm spot, approximately 100 degrees Fahrenheit, for 15 minutes. Slice the tenderloin.
Tip
To give the tenderloin a rich, brown crust, sear it on all sides in a heavy skillet coated with olive oil before roasting. You can also cook beef tenderloin in a slow cooker.
Warning
The leaner the beef, the less cooking time is necessary to produce a juicy, flavorful dish. Beef with an internal temperature under 125 degrees Fahrenheit is unsafe to eat.