Things You'll Need
2 whole duck breasts, split

Paper towels

Knife

Large frying pan

Spatula

3 shallots, finely chopped

5 cloves garlic, minced

1/4 cup all-purpose flour

1 cup duck stock or low-sodium beef broth

2 cups dry red wine

Wooden spoon

2 large carrots, peeled and finely chopped

2 bay leaves

1 tbsp. chopped fresh rosemary leaves

1 tbsp. fresh thyme leaves

1 tbsp. fresh marjoram leaves

1 tsp. salt

1 tsp. freshly ground black pepper

Slotted spoon

Strainer

Large saucepan

Small bowl

2 tbsp. cornstarch

Spoon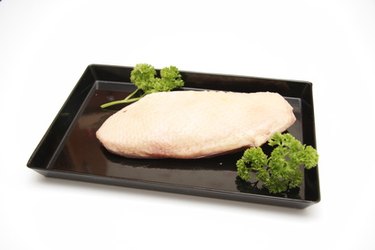 Many people are intimidated by the thought of cooking duck. It's not an everyday poultry item for most of us. However, duck can be cooked in many different ways, just like any other fowl, including with a slow cooker. Duck breasts in particular lend themselves to slow cooking and you needn't worry about them drying out.
Step 1
Rinse the duck breasts under cool running water and pat them dry with paper towels. Draw the tip of a small sharp knife lightly across the skin on the breasts, making three to four shallow slits on each. This will cut the surface of the skin to allow some of the fat to escape. Do not cut so deeply that the flesh of the duck breast is exposed.
Step 2
Place the duck breasts skin side down in a large frying pan and sauté for eight to 10 minutes, until the fat is rendered from the skin and it turns golden brown. Turn the breasts over with a spatula and sear the meat until it is lightly brown. Place the duck breasts into the slow cooker.
Step 3
Discard all but 2 tbsp. of the duck fat in the pan. Peel and finely chop three shallots. Mince five cloves of garlic. Add the shallots and garlic to the pan and sauté them in the duck fat over low heat until they are softened. Sprinkle ¼ cup of flour over them and cook, stirring over medium heat for one minute.
Step 4
Pour 1 cup of duck broth or low-sodium beef broth and 2 cups of red wine into the pan. Bring the liquids to a boil. Scrape up any browned bits of meat with a wooden spoon. Pour the mixture into the slow cooker.
Step 5
Peel two large carrots, chop them finely and add them to the slow cooker. Chop 1 tbsp. of rosemary leaves. Add the rosemary, 2 bay leaves and 1 tbsp. each of fresh thyme and fresh marjoram leaves to the cooker. Season with 1 tsp. each of salt and pepper.
Step 6
Cover the slow cooker and set on "low" for 6 hours or until the meat is tender when you pierce it with a knife.
Step 7
Remove the duck breasts with a slotted spoon to a serving plate. Discard the skin. Cover the duck breasts with aluminum foil to keep them warm while you make the sauce.
Step 8
Pour the liquid from the slow cooker through a strainer into a large saucepan. Skim off the fat. Bring the liquid to a boil. Remove ¼ cup of the liquid and pour it in a small bowl.
Step 9
Stir 2 tbsp. of cornstarch into the ¼ cup of liquid and mix to dissolve. Add it back to the pan and stir until the sauce is thickened.
Step 10
Pour the sauce over the duck breasts.