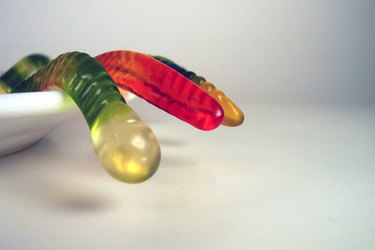 Originally produced by German candy maker Hans Riegel in 1922, gummy candy was once only available in bear form. By 2010, the gummy candy menagerie has expanded to include all kinds of creatures including gummy worms, bugs and fish. These colorful and sweet additions come in handy for everything from cake decorations to goody bags. If an overzealous trip to the candy store results in an excess of gummy worm goodness, you can freeze these little guys for up to one year using proper packaging.
Step 1
Untangle the gummy worms using your fingers. Dip your fingers into the gummy worms and gently massage and separate the contents. They don't need to be laying in row formation, but untangled gummy worms will thaw and separate more easily.
Step 2
Move your gummy worms into a freezer-ready zip-close plastic bag. Spread the gummy worms so that they occupy more space with less thickness. A flat sheet of gummys will be easier to thaw and separate than a dense ball. Leave 3 inches of space before the seal to remove any excess air.
Step 3
Squeeze out the excess air from the bag by pressing down and pushing the air out toward the seal. Zip the seal while holding your hand over the bag to prevent air from re-entering. With the air properly removed, the plastic should cling to the gummy worms inside the bag.
Step 4
Place the bag in your freezer along the side shelf or in a secluded corner. Avoid placing the bag of gummy candy under heavy items which could crush and disfigure the worm shape.
Tip
Separate your gummy worms into several freezer-ready zip-close bags to avoid thawing the entire batch every time you need just a few.