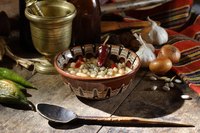 Fermented beans are a traditional condiment in many eastern Asian cultures. Pinto beans are not traditional to any Asian recipe, but can be fermented to create the same effect and flavors as traditional recipes. Soy beans are the traditional bean used in Asia. The liquid that comes from soy bean fermentation is soy sauce. Any bean will ferment well because of the high protein content. Salt aids in the flavors of fermented beans because I creates an umami flavor when combined with the fermented flavors.
Things You'll Need
3 cups pinto beans, canned or cooked and drained
1 onion, chopped
4 garlic cloves, minced
1 tbsp. sea salt
4 tbsp. whey
Bowl
Fork
Spoon
Quart-sized jar and lid
Put the pinto beans, onion, garlic, salt and whey in the bowl and stir it together with a spoon until combined.
Press the beans and ingredients together slightly with the fork. Do not mash the ingredients, but slightly tear some of the skin on the beans and press the onion pieces so that they become slightly moist.
Pour the mixture into the quart-sized jar. Leave 1 inch of head space at the top and tightly put the lid on.
Leave the jar at room temperature to ferment for 3 days. Open the lid slightly and tighten it again if you see that the lid starts to pop up. Move to the refrigerator for up to 60 days.