Things You'll Need
1 Boston butt pork roast

3 garlic cloves, minced or mashed

3 tbsp. liquid smoke

1 tbsp. Worcestershire sauce

½ tsp. salt

¼ tsp. pepper

1 tsp. dried thyme

1 tsp. dried sage

2 tsp. dried rosemary

1 tbsp. olive oil

Large frying pan or heavy skillet

1 medium or large cooking bag

Meat thermometer

Barbecue sauce

Buns
Contrary to its name, a Boston butt pork roast is actually from the front of the hog. It usually weighs anywhere from 4 to 14 pounds and generally includes the shoulder blade. When slow-cooked, this cut of meat is not only flavorful and moist, but it is also an economical way to feed a large family. When purchasing a Boston butt, keep in mind that there will be a significant amount of meat shrinkage when cooking. Additionally, you will need to remove some of the fat from the roast before serving. The lower the temperature used to cook the meat, the more tender and juicy the outcome will be.
Step 1
Preheat oven to 225 degrees F.
Step 2
Wash the pork roast and remove excess fat. Pat dry.
Step 3
Prepare a rub for the roast by combining garlic, liquid smoke, Worcestershire sauce and spices in a small bowl.
Step 4
Smear the rub all over the pork roast. This step can be done up to 24 hours ahead of time if you like. Cover the roast with plastic wrap or foil and refrigerate until you're ready to cook it.
Step 5
Heat a heavy skillet on stove over high heat.
Step 6
Add olive oil to the skillet and then sear the pork roast by turning in the pan until meat appears evenly browned. Searing the roast before cooking will seal in the juices and make the outer layer flavorful and slightly crispy.
Step 7
Place the seared roast into a medium to large cooking bag depending on the size of the butt pork roast.
Step 8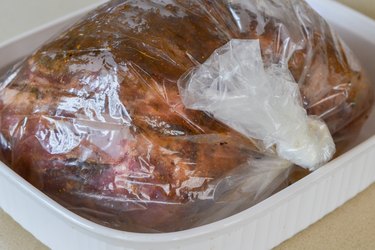 Place the bag in a large casserole dish, open roaster or the bottom of a broiler pan.
Step 9
Place the roast in the oven and cook 1 1/2 hours per pound at 225 degrees F. Use a meat thermometer to ensure that the internal temperature reaches at least 160 degrees before removing from the oven.
Step 10
Let meat sit for 15 to 30 minutes before removing from cooking bag and placing it on a cutting board.
Step 11
Shred or slice the meat from the bone and discard excess fat. If you would like the meat to resemble pulled pork, once it is on a cutting board, use two forks to the pull meat in opposite directions.
Step 12
Some people prefer the meat prepared this way without sauce. Others prefer to combine the shredded meat with barbecue sauce and serve over fresh buns.
Tip
This dish reheats very nicely or can be frozen and reheated for handy freezer-to-oven meals.