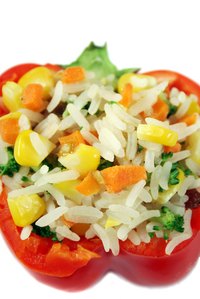 The Oster rice steamer and cooker prepares both rice and vegetables to complete a well-balanced meal. Upon receiving your cooker, you might have questions about how it works. You'll want to make sure your steamer is working correctly before cooking for friends or family by testing it out. Following a few steps will have your cooker making rice and steamed vegetables perfectly in little time.
Cook Rice
Pour rice into the supplied measuring cup to the desired amount. One cup of uncooked rice makes roughly two cups of cooked rice. Put no more than seven uncooked cups of rice into the cooker. Pour the rice into the inner pot, and add the correct amount of water to the rice using the measuring cup. For every two cups of rice, add four cups of water; for every four cups of rice, add seven cups of water; and for every six cups of rice, add eight cups of water.
Lower the inner pot into the rice cooker. Shift the inner pot left and right to confirm that it's firmly seated within the rice cooker body and is touching the heating plate. Cover the inner pot with the supplied lid, so that steam doesn't escape. Plug the power cord into an AC wall outlet. Push the "Power" switch (located on the front of the steamer) down to turn the steamer on. You will see the red "Cook" light illuminate.
Remove the lid momentarily after 15 minutes and mix the rice with a large wooden spoon or paddle. Replace the lid. You will see the cooker light switch to "Keep Warm" (yellow) when it has finished its cycle. It will remain in this mode until it's disconnected from the wall.
Steam Vegetables
Pour the correct amount of water into the inner pot. Use one-third of a cup of water for every 10 ounces of green beans, every eight ounces of sliced carrots and every five ounces of spinach. Refer to your user manual for more water to vegetable ratios.
Place the water-filled inner pot into the cooker body, confirming that the inner pot is directly touching the heating plate inside the cooker. Place all vegetables into the heating tray, and place the heating tray on top of the inner pot. Cover the tray with a lid.
Plug the power cord into an electrical outlet, and turn the rice cooker on by flipping the "Power" switch down. You will see the red "Cooking" light illuminate. When all of the water has evaporated, the machine will switch to "Keep Warm" automatically. Once the vegetables are steamed to your liking, remove the tray from the cooker, and disconnect the plug from the wall.