Things You'll Need
Post-bound scrapbook album

Refill pages with extenders

Flat head screwdriver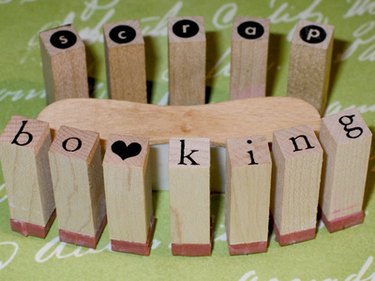 Scrapbooking has been around as long as there have been photographs to fill them. It is a charming and creative way to combine your personal photos with memorabilia and even short stories to capture special moments in time that photographs alone simply cannot. As you really get into scrapbooking, however, you will soon find it necessary to add refill pages to your album. There are three types of albums. The standard album does not allow for refills. The ring type album is simply a three ring binder style album that accepts refill pages with a standard three hole punch design. The most popular type of album, and one that also accepts refills, is the post-bound album.
Disassemble the Album
Step 1
Locate the screw post heads that are located under the flap on the back cover.
Step 2
The screw post heads are slotted for use with a flat head screwdriver, but will usually twist just fine with only your fingers.
Step 3
Remove screw post heads and set aside.
Install Refill Pages
Step 1
Once the screw post heads are removed, the posts will be exposed, and pages can be removed, added or reorganized.
Step 2
Install extenders into the posts if additional height is needed. Most refill pages come with extenders that simply screw into the existing posts; otherwise, post extenders can be purchased separately at your local scrapbook supply store.
Step 3
When all of your pages have been installed and in the order you like, simply screw the post heads back in place.
Tip
While you have your album disassembled, it is the perfect time to lay out your pages and try to regroup them for a fresh new look.
Warning
When removing your screw post heads, place them in a small cup or on a cloth to prevent them from rolling off the work surface and getting lost.