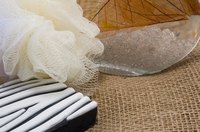 Nylon net scrubbies are also known as bath poufs, bath nets or dish scrubbers. The versatility of this wispy ball of tulle or nylon net makes it ideal for the bath or the kitchen. In the bath, the gathered tufts of nylon make an effective sponge that gently exfoliates. In the kitchen, the nylon is as an effective scrubber that doesn't harm fragile dishes or the coatings on cookware. Nylon net scrubbies are easy to make for your own use or to give away as gifts.
Things You'll Need
1/2 yard of 72-inch tulle or nylon net
Scissors
Clear nylon thread or dental floss
Large sewing needle
Lay the tulle flat on your workspace.
Thread your needle with the nylon thread or dental floss.
Cut the tulle into three 6-inch strips.
Place the three strips directly on top of each other, aligning all edges.
Sew the three strips together lengthwise, sewing through the center of the material, creating stitches that are 1/2 inch long. Leave a long tail on the thread to make sure it doesn't pull through.
Pick up the length of tulle and hold one end of the thread in one hand. Push the material away from you to make it bunch up like rippling waves.
Wrap the thread around the center of the ball several times and cut the thread, leaving a 1- to 1 1/2-inch tail. Tightly knot the ends of the tail together and snip the excess threads.
Separate the layers of tulle to create the pouf.