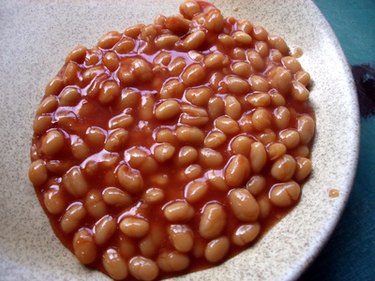 While you can prepare dry beans by soaking them in water overnight before cooking, you might also just want to cook beans that you purchase frozen or canned from a grocery store. You can make many different types of beans, including pinto beans and butter beans. A popular way to prepare beans is to heat them on the stove. Some beginner chefs discover that their beans are still hard after the preparation time is over.
Step 1
Prepare the beans by following the instructions on the package. You can also follow a recipe on how to prepare beans. A popular way to prepare frozen beans is to soak the beans in water that completely covers them and boil.
Step 2
Cook the beans the amount of time the recipe suggests. Sample the beans when the time suggested runs out. Determine that the beans are still hard and you are not overcooking them by letting them cook longer.
Step 3
Boil the beans on the stove for longer than the recommended time that the recipe suggests. Fill the pot with additional water. When the water boils for a while, it can boil out and leave little water to help soften the beans.
Step 4
Keep the beans on the stove for the amount of time it takes for them to become soft. Check on the beans every five to 10 minutes. Do not overcook the beans.
Step 5
Remove the beans from the stove when they are soft. Prepare the beans the way you want. For instance, butter beans are tasty with butter, salt and pepper.
Tip
Check on your beans often so they do not overcook or burn.
Warning
Hard beans can ruin a whole dish so taste your beans before taking them off the stove.