Things You'll Need
Vaseline

Shaving cream

Saddle soap

Mink oil

Soft cloth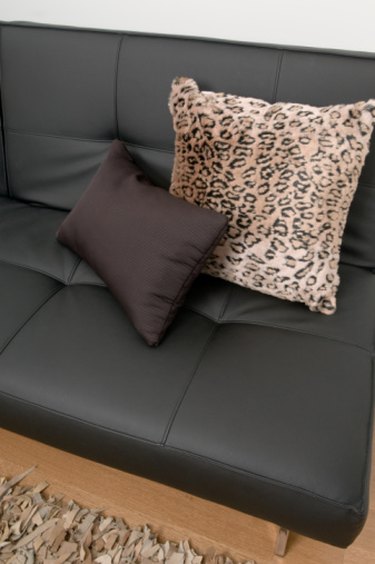 If you are looking for a way to bring affordable luxury to your living room, study or den, a leather couch can be an excellent way to accomplish that goal. Depending on where you buy your leather couch, you could spend hundreds, or thousands of dollars. With all that money on the line, it just makes sense to treat the leather properly from the start. As with anything made of leather, your sofa requires a careful breaking in period, during which the hide is softened and conditioned. That softening and conditioning makes the leather more pliable, and the couch more comfortable.
Step 1
Dip a soft cloth in Vaseline and work it into the surface of the leather. Continue working the Vaseline into the leather until the surface feels dry. Work on one section at a time, and work slowly to allow the Vaseline time to soak into the leather. The oil in the Vaseline makes the hide softer to the touch.
Step 2
Wipe each section of the leather couch with a soft cloth after you are done applying the Vaseline. Continue wiping the surface of the leather until all grease from the Vaseline is removed. When you are done, the couch should feel soft and smooth, and greasy.
Step 3
Dampen a soft cloth and apply shaving cream. Work the shaving cream into the surface of the leather couch. Shaving cream is a cheap alternative to other leather softeners, and it works quite quickly.
Step 4
Wipe away any leftover shaving cream after using it. Polish the leather surface with a soft dry cloth.
Step 5
Dip a damp cloth in mink oil or saddle soap. You can buy mink oil and saddle soap at leather shops and places where horse tack is sold. Work either one into the leather thoroughly, working on one section at a time. Wipe away any leftover residue when you are done.
Tip
Clean any spills on the leather couch immediately. Set in stains on leather are difficult to remove.