Things You'll Need
Drop cloths

Measuring tape

Level

Sharp utility knife

Pan of water or wallpaper paste

Paste brush

Smoothing brush

Old towels or rags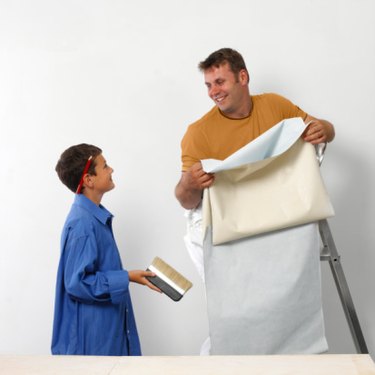 Textured or anaglypta wallpaper can be applied to almost any type of wall, but is often used in old homes to cover uneven plaster. It can be painted several times before the texture begins to diminish, making it an extremely versatile paper. This type of paper comes in many patterns and textures. Textured paper is applied in the same manner as regular paper, though with a bit more care.
Step 1
Cover the floor of the room you are papering with drop cloths. Wallpaper must be damp when hung and can drip onto the floor. Remove any outlet or switch covers.
Step 2
Measure the width of the paper (minus 1/2 inch for overhang) from a corner -- this is where you will begin. Draw a straight vertical line to butt the first piece of paper against.
Step 3
Measure the length of the first wall you will be papering. Cut the first piece of paper slightly longer than needed to be safe.
Step 4
Roll the strip up loosely and soak the paper in water for about one minute or until the paste begins to thicken. Follow the instructions on the package. A bathtub is the easiest place to soak paper. If using a paper that has not been pre-pasted, apply a layer of paste to the entire back of the paper.
Step 5
"Book" the paper together by folding each end in toward the middle, then paste sides together. Allow the paper to sit until the paste thickens further.
Step 6
Press the top edge of the paper to the top of the wall. Begin in a corner and overlap 1/2 inch of paper around the corner. This will be trimmed later.
Step 7
Press the entire length of paper onto the wall. Smooth it with the smoothing brush to release any glue bubbles or wrinkles. Do not press all of the glue out from beneath the paper. Wipe the paper down with an old towel, mopping up any glue that has come out from beneath the paper.
Step 8
Slice the paper in each corner once both strips have been hung. There should be an overlap on both sides. Make a clean cut down the center, then remove the two strips from underneath on either side. Press the edges down and toward one another.
Step 9
Match the pattern (if applicable) to the next strip, starting at the top of the wall. Measure and cut the next piece as described in Step 2.
Step 10
Repeat the process of soaking, booking, hanging and measuring. Apply paper over the edges of doors or windows, trimming carefully with a utility knife once the paper has been applied and smoothed. Turn off the power before pasting over switches or outlets.
Step 11
Trim any long top or bottom edges carefully.