Things You'll Need
Disposable gloves

White vinegar

Dropper

Red food coloring

Blue food coloring

2 plastic spoons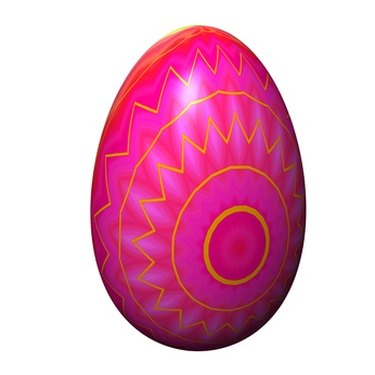 Dying Easter eggs is a fun family activity. With many egg dye manufacturers implementing new colors, including hot pink, it is easier than ever to dye Easter eggs hot pink. However, sometimes the egg dye in the kits don't always dye true and the eggs end up coming out light pink or true pink instead of "hot." Sometimes, with specific colors, doing it the old fashioned way -- with simple vinegar and food coloring -- works best. You only need two colors to receive hot pink results: red and blue.
Step 1
Cover your workspace with newspapers. Egg dye will stain some wood and Formica surfaces.
Step 2
Put on the disposable gloves. These will keep the dye from staining your hands.
Step 3
Add 2 to 4 ounces of vinegar to the glass bowl. The dye could enter crazing in plastic or china bowls, which can become permanent stains.
Step 4
Add 18 drops of red food coloring to the vinegar. Stir with the plastic spoon. Dispose of that spoon.
Step 5
Add 2 blue drops of food coloring. Stir with a new plastic spoon until both of the colors are well blended, revealing hot pink or fuchsia.