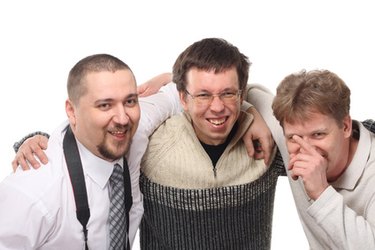 A roast is a humorous event in which an individual is honored with good-natured insults and put-downs, as well as praise, in front of an audience of family, friends and coworkers. The insults should not be overly harsh or intensely personal — and it's a good idea to strike a balance in tone so as to avoid offending audience members.
Check with the coworker first to make sure he or she is comfortable with being roasted in front of peers.
Step 1
Structure your roast speech around a particular event that the coworker is tied to; instruct the others participating in your roast to do the same. Use the coworker's birthday, anniversary, retirement or promotion for humor fodder (e.g., a retirement roast is perfect for jokes about aging; a promotion roast would call for jokes about poor workmanship).
Step 2
Keep speech length at around 5 minutes, so all who wish to speak can do so without boring the audience. Avoid engaging in jokes and put-downs that are too harsh or are not directly related to the occasion at hand.
Step 3
Include characteristics, traits and idiosyncrasies of the honoree, such as the honoree's style of dress, habits, personality quirks and communication style. Avoid subjects pertaining to family dysfunction, physical or emotional handicaps or romantic/sexual relationships.
Step 4
Set up for the festivities. Arrange the podium and seating in a U formation, with all the seating facing the podium, which is at the center. Provide a microphone at the podium.
Tip
It's best for the attendees to have their jokes on index cards for reference, then use their own words in between. Memorized speeches sound overly formal and forced.