Things You'll Need
Fabric

Batting

Sewing measuring tape

Sewing scissors

Staple gun

Decorative upholstery tacks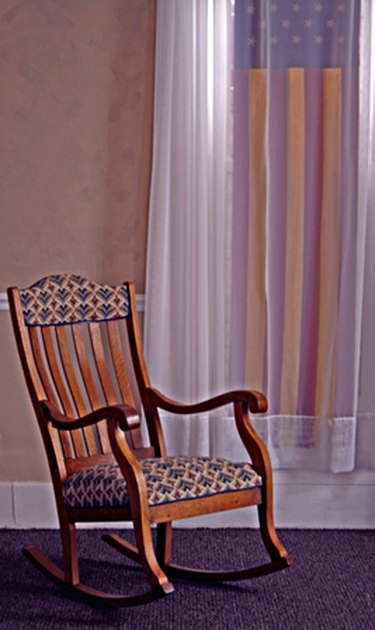 If you have curved back chairs that you want to upholster, you can do it yourself. Upholstering your curved back chairs will add character and texture to your room, and is a good financial option over buying new ones. When choosing a fabric for your chairs, decide first on what color and style you are going for. Choose a fabric that cleans easily, especially if your chairs will be in an eat-in-kitchen where they will get daily use.
Step 1
Remove the seat and back of the chair. This may not be possible, but if it is, reupholstering the chair will be a lot easier. Set the hardware aside in a safe place so it will not be lost. Remove the existing fabric from the chair. Use a razor blade to safely cut the fabric. Discard the old fabric and batting.
Step 2
Measure the seat with a flexible sewing tape. A flexible sewing tape will allow you to get an accurate measurement over the curves of the chair seat. Add an additional two inches to each measurement. Write down all measurements.
Step 3
Cut enough ¼- or ½-inch batting to attach to each section of the chair. The thickness of the batting that you choose is a personal preference, though thinner batting is easier to work with. Thicker batting adds more comfort. For the seat, place the batting flat and lay the seat face down onto the batting. Pull the batting tight, wrapping it around to the underside of the seat. Begin with the sides first, and end with the corners. Use a staple gun to attach the batting. The staples should be approximately 1 inch apart and ½-inch long. Cover the front and back of the chair back using the same process as you did with the seat. You always want to attach the long, straight sections first, and then wrap the corners and curves. Trim any excess batting.
Step 4
Remeasure the seat and chair back after the batting has been applied. This is important; the batting will alter the original measurements. Remember to add an additional 2 inches to each measurement.
Step 5
Cut out the fabric for each section. Repeat Step 3 to apply the fabric to the seat. Remember to pull the fabric tight to avoid creases and wrinkles. Attach the fabric to the back and front of the chair back using the same technique used to attach the batting, but do not trim the excess fabric. Fold the excess fabric under and seal it to the chair using decorative upholstery tacks.