Prime rib roast, long associated with the holidays and special occasions, earns its name from the cut, not the quality, of beef. A primal cut from the rib, the roast features a large amount of marbling, fat that produces rich, flavorful meat during cooking. For the highest quality prime rib, start with a rib roast or standing rib of USDA Prime grade, though a USDA Choice cut will work, also. Prime rib roast is generally served medium-rare, which requires a lower internal temperature than the USDA guidelines. If you are concerned about food-borne illness or are serving at-risk populations, such as the elderly, cook the roast longer, as described in the Tips section.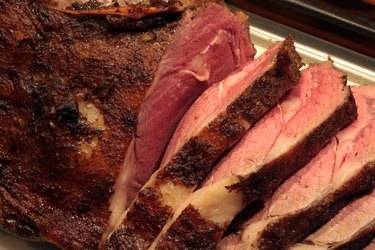 Start to Finish: 8 to 16 hours Servings: 6 Difficulty Level: Beginner
Things You'll Need
5-pound boneless rib roast

1 cup fresh parsley, chopped

1/3 cup fresh sage, chopped

1/3 cup fresh rosemary, chopped

1/3 cup fresh thyme, chopped

8 cloves garlic, minced

1 tablespoon kosher salt

1 teaspoon ground black pepper

1/3 cup olive oil

1 cup beef stock

2 tablespoons red wine
Step 1
Place rib roast in a large, airtight container or large zippered plastic bag. Add remaining marinade ingredients to the container and turn the roast several times to coat surface with the mix.
Step 2
Marinate in the refrigerator for 4 to 12 hours. Turn the rib roast several times during marination to ensure even coating.
Step 3
Remove the container to a counter and rest for 1 to 2 hours, or until rib roast reaches room temperature.
Step 4
Preheat oven to 450 degrees Fahrenheit. Fit a roasting pan with a roasting rack.
Step 5
Place roast on rack, fat side up, and cook in oven for 20 minutes. Without removing the roast, drop oven temperature to 325 degrees F and cook for an additional 60 minutes, or until internal temperature reaches 125 degrees F for a medium-rare finished roast.
Step 6
Remove roast from pan to a cutting board. Tent the roast with aluminum foil to rest for 20 minutes, or until internal temperature reaches 135 degrees F for medium-rare prime rib.
Step 7
Meanwhile, using pot holders, move the roasting pan to a large burner or two small burners set to medium-high heat. Deglaze the pan with the beef broth and wine, stirring vigorously to incorporate the pan drippings, to make jus.
Slice the rested roast and serve au jus.
Tips
Do not shorten the resting time after cooking, as cutting the roast prematurely will release juices rather than allow them to be absorbed back into the meat.
USDA guidelines recommend a minimum finished temperature of 145 degrees F for beef, which translates to between medium and medium-well doneness in beef. If you are concerned about serving medium-rare prime rib, remove the roast from the oven when it reaches 140 degrees F and allow to rest as outlined above. The final temperature will reach between 145 and 155 degrees F.
If using a convection oven to cook your prime rib, reduce the temperature during the second stage of roasting to 300 degrees F. Check the internal temperature of the meat after 45 minutes instead of 60.
If using a cooking bag to cook your prime rib, first sear all sides of the roast in a very hot pan with 2 tablespoons olive oil. Preheat the oven to 325 degrees F, as you will not need the initial higher heat for browning. Place the seared prime rib in the cooking bag with the marinade ingredients. Close the bag and set it in a roasting pan, tucking the ends under the roast. Cut four to six slices in the cooking bag to allow steam to escape and space for a thermometer. Cook for 1 1/2 hours, then check for doneness. Remove to rest when roast reaches 125 degrees F.
Variations
Add 8 ounces of sliced mushrooms and 3 tablespoons minced shallots with the beef broth and wine when making the jus for a mushroom sauce.
If desired, an 8-pound bone-in rib roast may be used instead of the boneless roast. Instead of using a roasting rack, set the rib roast bone side down in the pan. You will need to cook the roast longer at 325 degrees F by at least 30 minutes.