Things You'll Need
100-grit sandpaper

Damp rag

Exterior wood stain-blocking primer

Paintbrush

Paint roller

Oil-based paint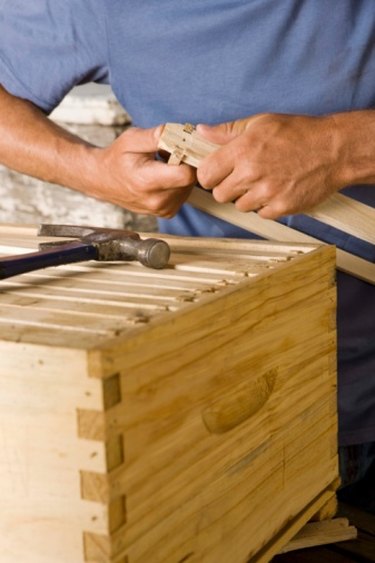 Wood is a durable and inexpensive building material, but its natural color is not always conducive to your design vision. If you want to add color to untreated wood, a fresh layer of paint does the trick. However, untreated wood requires some special attention before painting. If you don't properly prepare the wood, moisture damage could destroy the wood, or natural tannins may bleed through the paint. Wood preparation is time consuming, but it's not overly difficult. With the right know-how, a novice painter can paint untreated wood surfaces for an even, clean, professional appearance.
Step 1
Sand the wood surface with 100-grit sandpaper. This rough sandpaper helps even out gouges and gets rid of splinters in most untreated, raw wood surfaces.
Step 2
Sand the untreated wood with 150-grit sandpaper to smooth out the surface for more even paint coverage.
Step 3
Wipe the sandpaper dust off of the wood using a damp rag.
Step 4
Apply exterior wood primer with a paintbrush or paint roller. Even if you are using the wood item indoors, exterior wood primer is a good choice because it blocks moisture and seals the wood surface for long-lasting durability. Paint against the wood grain for better coverage. For woods like redwood, mahogany, cedar and maple, make sure the primer is labeled as "stain-blocking." Certain woods gradually release tannins as they age. Tannin is a natural stain that will bleed through normal primers. Not all woods release excessive tannins, but if you're unsure about your wood, it's better to spend a few extra bucks on stain-blocking primer to be on the safe side.
Step 5
Apply oil-based paint to the surface using a brush or roller. With the primer already on the wood's surface, you don't need to worry about the direction of your brush strokes in relation to the wood grain. Just make sure you brush in a consistent direction for even paint coverage.
Step 6
Paint a second coat onto the wood if there are any bare spots after the first coat dries.