Things You'll Need
Slate tiles or stones or pre-shaped items, such as coasters

Work table with protected surface

Wax pencil

Colored carbon paper (optional)

Design template (optional)

Engraver with diamond carving tips

Safety goggles

Dust mask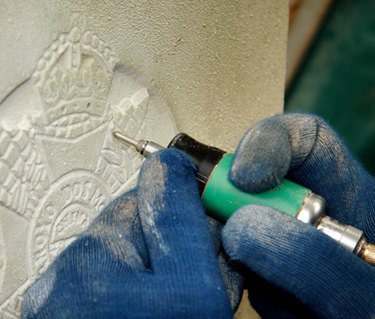 Engraving on slate is a technique that allows you to personalize slate and stone items for yourself or as gifts. Create garden stones, useful items such as address plaques or coasters personalized with initials and numbers. Engraving on slate requires diamond-tipped tools to create detailed designs without breaking the stone. Traditional methods using a chisel and hammer require much more practice and expertise to produce engraved pieces without breaking them.
Step 1
Prepare the surface of the slate by cleaning it, if necessary. Lay your slate on a protected work surface. You can cover the surface of a table with a thick layer of newspaper if necessary, but a functional work table is preferable.
Step 2
Draw the design you wish to engrave on the slate with the wax pencil. An alternate method is to transfer a printed or pre-drawn design from a sheet of paper to the stone by using colored carbon paper and tracing the design. Put the carbon paper ink-side down beneath the sheet with the design printed or drawn on it. Tape the two sheets to the slate, then trace the design with a pencil. Remove the papers to reveal the transferred design.
Step 3
Insert the correct tip into the engraver. There are a variety of tips from cone shaped and ball heads to discs. These are all designed to create a different shape and depth to your designs. Practice is a good idea on a scrap piece of slate if you have not used an engraving tool. Put on the safety goggles and the dust mask before you begin carving.
Step 4
Carve the outlines first, then more detailed areas, saving the shading and intricate details for last. Work slowly and don't rush. Take a break if your hand becomes tired to avoid making a mistake that can ruin your project.
Step 5
Gently wash the slate and remove any dust and debris when the project is finished and allow to dry.