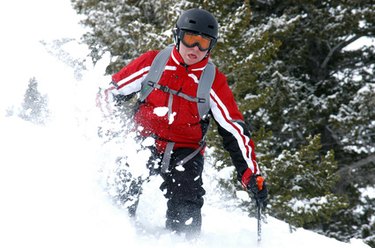 Patagonia evolved out of a company that marketed tools and gear to Alpine climbers. Patagonia is best known for its outdoor clothing apparel, including clothing for enthusiasts of mountain sports, water sports and running. Its line of fleece apparel includes jackets, pullovers, vests, pants and even balaclavas. To help extend the longevity of your Patagonia fleece apparel, launder after each use.
Things You'll Need
Stain treatment

Dishwashing detergent

Ice cube

Knife

White vinegar

Powdered detergent

Drying rack
Stain Removal
Step 1
Treat most stains with a pre-wash stain treatment. Spritz it on the area, rub it in gently and proceed to laundering.
Step 2
Remove grease stains from Patagonia fleece by getting the area slightly damp. Rub in a drop or two of dishwashing detergent. Launder it with warm water.
Step 3
Freeze sap or gum stains with an ice cube and scrape the area gently with a dull knife. Soak the garment in a solution of 50 percent water and 50 percent white vinegar. Launder with warm water.
Washing
Step 1
Check the garment tag for specific instructions for your particular garment. Follow these directions even if they differ from the general fleece care directions.
Step 2
Place the garment in the washing machine and set the cycle to either "Cold" or "Warm."
Step 3
Add a mild, powdered detergent. Patagonia recommends using a biodegradable, non-toxic detergent.
Step 4
Dry the fleece on a drying rack. Do not put the garment in the drying machine.