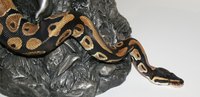 Kids who are eager to dress up like a critter from the animal kingdom can recycle household items to create a python costume. Depending on the climate in which you live, you may want to use heavier clothing items such as sweaters and sweatpants to make your child's costume. Use photos of pythons as a reference when making this costume, as you will need to replicate its snake skin pattern. Supervise your children as you create this costume, as you will be using materials that can be toxic. Allow the costume to dry thoroughly before dressing your child.
Things You'll Need
Tan sweatshirt
Tan sweatpants
Tan gloves
Boots
Acrylic paint
Paintbrush
Water
Tan hood
Face paint
Paper
Scissors
Permanent marker
Spread a garbage bag or another protective surface over a table. Spread out the sweatshirt and sweat pants on the table, making sure that sleeves and leggings are fully extended and not wrinkled. Cut out sections of paper and arrange these slips of paper on top of the sweatshirt and sweatpants. Use black acrylic paint to create an outline of these sections of paper.
Remove the slips of paper and fill the outlines you have created with black acrylic paint. The goal is to create patches that resemble the snake skin of a python, so use a picture as reference as you work. Allow each side of the sweatpants and sweatshirt to dry, and then turn over. Repeat Step 1 and Step 2 and allow to dry.
Place the tan hood over your child's head. Use a permanent marker and gently trace a circle around your child's eyes, nose, and mouth. Remove the hood and use scissors to cut out around these circles. Set the hood on a flat surface and use acrylic paint to craft a snake skin pattern on the hood. Allow the hood to dry and turn it over to paint the other side. Turn the hood over again so that the side with pieces cut out faces you.
Paint a forked tongue below the mouth hole on the mask and allow to dry. Dress your child in her costume and, if desired, add a toy rubber snake as an accessory.