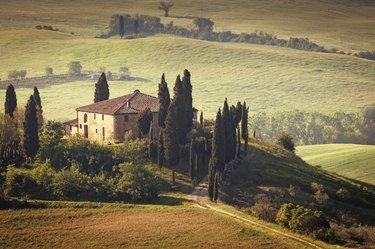 Tuscan-style decorating can be summed up simply as warm, earthy, rustic and inviting. Inspired by Italian villas and vineyards and the rolling hills of the Mediterranean countryside, Tuscan decor has strong ties to nature, cooking, wine and Old World artisan craftsmanship. Earth tone colors and rugged, natural elements mixed with artfully crafted accents create interiors with irresistible appeal.
Earth Tone Walls
Fundamental elements of Tuscan style include textured walls in warm, earth tone colors such as beige, tan, golden yellow, ochre, terra cotta, or burnt orange. The desired effect is a look that resembles aged plaster or stone. One solution involves textured paint. Powder additives can be stirred into latex paint for a subtle texture on walls.
For more visual depth, try a faux texture technique by glazing or color washing walls. Paint the walls in a light base color of cream, beige, light yellow or apricot. A darker glaze color in brown, mustard or golden yellow or terra cotta is then applied with a rag, sea sponge or paintbrush to give the walls depth and texture.
A stone accent wall makes an interesting textural addition to a dining room, kitchen or living room. Do-it-yourself stone veneer wall panels make it easier and less expensive than hiring a mason to install an actual stone wall.
Rustic Floors and Ceilings
Impart a Tuscan feel with floors covered in stone, terra-cotta tiles or hand-scraped hardwood. These earthy materials tie in with the natural elements common to this design scheme. For a more inexpensive option, you can get the look of stone or hardwood flooring with click-lock vinyl planks or tiles. Vast improvements in materials have given vinyl flooring a much more realistic appearance.
Exposed wood beams on ceilings resonate an Old World feel in the kitchen or living room. Hollow beams made from real wood or polyurethane are crafted to resemble real rustic barn wood or reclaimed weathered wood, perfect for a Tuscan-themed home.
Old World Furniture
Heavy wood furniture with hand-carved details and scrolling ironwork befits a Tuscan-style home. Spanish colonial, Old World European styles or rugged farm house pieces blend with the rustic backdrop. For upholstery, think rich brown, camel- or rust-colored leather or tapestry-style fabrics in gold, cream, sage, olive, beige, russet and brick red. Wrought iron beds, chairs or side tables look right at home.
If you have to make do with the furniture you have, consider staining light wood furniture dark brown to give it a warm, rustic feel. Painted wood furniture or cabinets can be antiqued with brown stain as well. Whenever possible, replace knobs, handles and hinges with iron or oil-rubbed bronze hardware.
In the bathroom, repurpose an old dresser or cabinet into a vanity with a distressed, timeworn finish. Embellish the top with a copper vessel sink and oil-rubbed bronze faucet.
Tuscan-Inspired Accessories
Brighten the kitchen with colorful Italian Majolica pottery. Bottles filled with oil and herbs, hanging baskets with tomatoes, garlic bulbs and onions, and glass jars filled with dried pasta bring a culinary feel. Place a wrought iron wine rack on an island or counter or hang copper pots from an overhead iron pot rack. Accent cabinet tops with faux greenery, woven baskets, pottery and a decorative platter as an anchor piece.
Large earthenware vases or urns, olive jars, pedestal bowls, ceramic pitchers and jugs make excellent Tuscan accents. Embellish walls with paintings or murals of the Tuscan countryside or still lifes featuring wine and grapes. Wrought iron wall sconces, grills, candleholders and light fixtures convey rustic elegance. Bring warmth to hardwood, tile or stone floors with large floral area rugs in gold, beige, rust, burgundy, olive, ochre or brown.
Tips on DIY Options
Although do-it-yourself decorative painting and distressed finishes are money-saving options, you need to practice your technique before attempting a decorative finish on walls, cabinets or furniture. Sample boards are available at most paint stores, and you can use them to practice ragging, sponging or brushing a color wash.
Scrap wood or a small thrift store wood furniture piece can be used to practice staining and distressing techniques. Most importantly, determine your budget first and then start pricing materials for decorating and decor. This can help you determine how to start your Tuscan themed transformation.