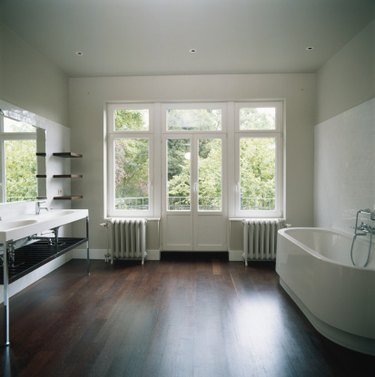 When you have hardwood flooring in the bathroom or a similar area where hairspray is used, the floor can quickly become covered with spots of shiny, sticky residue that makes the hardwood look unattractive. Luckily, hairspray is fairly easy to remove, so by mixing a couple of ingredients that you already have in the home you can quickly remove all of the hairspray buildup.
Step 1
Pour 1 cup white vinegar and 1 gallon warm water in a large cleaning bucket.
Step 2
Swish your mop in the cleaning bucket and squeeze out excess water, as you want to use little liquid when cleaning.
Step 3
Mop over the hardwood, wiping with the grain of the hardwood panels.
Step 4
Let the floor air-dry, and repeat as needed until all hairspray is removed from the hardwood.