Things You'll Need
Glaze mix

Pineapple (optional)

Whole cloves (optional)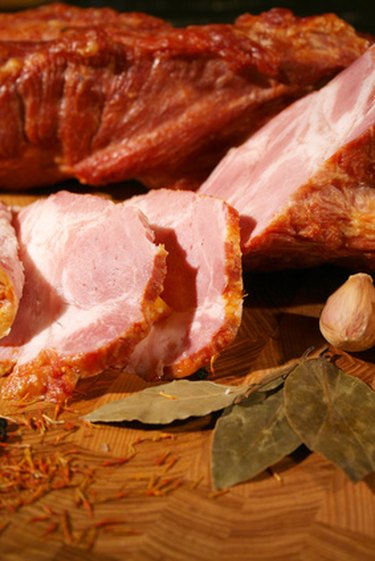 Baked ham is a relatively easy and satisfying main dish to prepare for standard family meals and special occasions. True success depends on the type and quality of the ham from the outset but is also dictated by skilled monitoring of heat, baking time and proper glazing. Stoneware is a great choice for baking ham, because it distributes and holds heat without drying out the meat, helping to contain flavor quality throughout the glazing process and on the table.
Step 1
Preheat the oven to 325 degrees F. For best results, place a shallow stoneware dish in the oven, without the ham, while the oven preheats. Wear hot mitts to remove the stoneware from the oven when it reaches the desired temperature.
Step 2
Set a ham in the heated stoneware, and place it uncovered on a rack in the oven. Do not trim the ham at this point.
Step 3
Bake according to the type of ham being used. A ham labeled "cook before eating" needs to bake to an internal temperature of 160 degrees F. For a whole 10- to 15-lb. ham, allow 18 to 20 minutes per pound. Half hams should bake for 20 minutes per pound. Smaller sections, without the bone require 35 minutes per pound. "Ready to eat" or "fully cooked" hams only need to heat to 140 degrees F. Allow 15 to 18 minutes per pound for a whole ham of this type or 18 to 24 minutes per pound for a half ham.
Step 4
Remove the ham to glaze it 30 minutes before the bake time is finished. The stoneware really pays off here, because the ham stays warm and continues to cook while it's out of the oven for glazing.
Step 5
Trim excess fat, cross-cut the topside of the ham and glaze it to taste. Many hams come with a glaze mix, but you may prefer to create your own with brown sugar, dry mustard, cider vinegar and ham drippings. Fastening pineapple with whole cloves to the corners of each cross-cut also adds a robust flavor and traditional appearance to the dish.
Step 6
Return the ham to the oven for the final 30 minutes of bake time. Test the internal temperature with a meat thermometer, especially for a ham that started out uncooked.
Step 7
Serve the ham in the stoneware. An additional benefit of using stoneware to prepare baked ham is that it doubles as an attractive serving dish that keeps the ham warm and delicious throughout the meal.