Things You'll Need
Styrofoam or thick craft foam

Marker

Round guide/template (i.e., bowl, plate)

Long, serrated knife or scissors

Sponge paint brushes

Craft or acrylic paint or poker chip stickers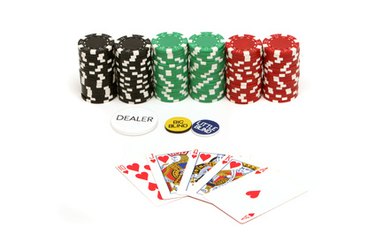 Make your own casino poker chip decorations for your next poker- or casino-themed party. The poker chips can imitate those from your favorite Vegas casino or design something custom-tailored for your event. For example, put "Mark's 30th" on the poker chips if you're celebrating Mark's 30th birthday with a casino-themed party. Common poker chip colors include black and white, green and white or red and white. Alternatively, use the colors that complement the rest of your party decorations.
Step 1
Place a round bowl, plate or other object on the foam and trace the object with a marker to form a perfectly round foam poker chip. Don't press too hard, especially if you're using Styrofoam, as it can easily break apart.
Step 2
Cut the circle out using a sharp, long knife for Styrofoam or scissors for craft foam. Don't press too hard if you're using Styrofoam, or the foam might break apart.
Step 3
Brush off any extra Styrofoam beads to leave a smooth, round poker chip-shaped piece.
Step 4
Carefully place the casino poker chip sticker on the center of the circle, or paint a poker chip design with craft or acrylic paint using a real casino poker chip as a guide.
Tip
You can make poker chip stickers with a computer or order them from poker chip or party novelty stores.