Things You'll Need
Engineer or engineering knowledge

Outdoor pool

Architectural plans

Permits

Excavator

Concrete contractor

Glass panels

Pliers

Nut drivers

Bolts

Motor for retractable roof system, if desired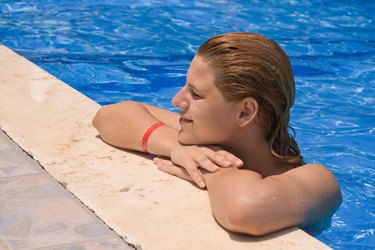 An outdoor pool provides fun and entertainment during the summer months. In mild climates, such as the south and southwest, homeowners use outdoor pools most of the year. However, in other parts of the country weather limits the amount of time a pool can be used. In these areas, changing an outdoor pool to an indoor pool is an option, if cost is not an object.
Step 1
Decide on a style. A pool enclosure can be permanently fixed or it can be retractable. Retractable styles may have retractable roofs, retractable sides or both. Retractable systems are more expensive and prone to repairs, but they also are more versatile. Retractable systems need a place for motors and runners, which should be determined during the engineering and drawing stages.
Step 2
Complete the engineering evaluation. Putting a cover on an outdoor pool requires careful engineering. Hire an engineer if you do not have the civil or structural engineering experience to evaluate the building site. Outdoor pool conversions and indoor pools, in general, often suffer from extreme humidity and structural water damage, among other challenges. Careful planning and design is necessary to have appropriate ventilation, structural support and dehumidifiers to avoid these issues.
Step 3
Have an architect draw plans. No major construction project should begin without detailed architectural drawings. If you are working with a contractor, especially one that does pool conversions regularly, they will likely have standard plans that can be altered for your individual home. If you are planning the work on your own, have an architect work with the engineers to develop construction drawings.
Step 4
Obtain permits. Before contracting for any work or beginning construction on a pool enclosure, check with city and local zoning officials to obtain clearance for the structure and obtain the appropriate permits. If you have hired a contractor, be sure they obtain the correct permits prior to beginning construction. Construction plans are generally needed prior to obtaining permits.
Step 5
Complete construction. Many homeowners hire a professional construction company to complete a pool conversion from outdoor to indoor, due to the complicated issues involved. However, if you have construction expertise, it is possible to complete the work yourself. Retractable systems may be constructed over existing patios or pool decks, but it is sometimes necessary to add extensions to existing concrete structures. Permanent buildings to cover pools will need foundation supports.
Tip
"Bubbles" held in place by air pressure also can be used to cover an outdoor pool. These are often less expensive than glass enclosures, but usually need to be created by professionals. Many people have professionals put them up and take them down each year, as well. They are popular with colleges, communities and hotels, but less popular with homeowners.
Warning
Covering an outdoor pool can be an expensive project. In some cases, it can be less trouble and provide a more pleasing overall result to build an indoor pool from the beginning. Be sure to get expert advice before embarking on a project to cover a pool.